When it comes to food, I am a planner. I try to map out meals for the week, and we cook most our our meals from home because I like to know what I'm eating, and I feel like the only way you can truly do that is if you're cooking it.  I keep a lot on-hand to make quick and simple meals. I often have friends come over, and they seem to amazed at how much is in my fridge, pantry and freezer. I don't think it's anything extraordinary; it seems quite efficient and smart if you ask me.
That said, I thought I would share some of my Trader Joe's favorites with you since many of these items help me make quick and simple meals for my family. I don't get to Trader Joe's regularly. I tend to go only once a month since the locations in Houston aren't in my neighborhood. I'm really just about convenience, so I shop mostly at Kroger because it's one street away. I only hit up Trader Joe's if I am near it for another reason, otherwise I have to make special trip. I think going once every month or so is worth it to stock up on affordable food staples and produce.
Even before I became a mom, I just kept a well-stocked pantry. It's how my family grew up, and I guess I just inherited that. I'm the best person to stay with during a hurricane because I already have everything, and I'm not scrambling like everyone else out there! We're pretty healthy eaters because I dictate our meals, meal plan and and do our grocery shopping, but I am also very realistic. Until recently, I had a job where I was not getting home until 6pm or later most days. Even though I work from home now, and I'm not scrambling in the evenings as much, I still don't want to be a slave in the kitchen because I want to spend my time with my kid and husband or wind down doing something relaxing for myself. I stick to real, organic foods most of the time and supplement with convenience foods as needed. I think there are a lot of good brands out there now (including great organic brands with affordable convenience items) that make life easy for you, so why not help yourself out a couple of nights a week so you can spend more quality time with your family? Some of these convenience items like Mandarin Orange Chicken aren't necessarily the healthiest, but they taste great, can be made quickly and help satisfy our Chinese food takeout cravings. Again, I'm just realistic. I find myself supplementing my meal planning with items like this or a frozen pizza now that I'm a parent, and I don't feel bad about it. I'm definitely live by the "everything in moderation" mantra. Good for you if you're gluten free, paleo or on the Whole 30 bandwagon. I have never dieted in my life, and I am not a restrictive person. I've trained myself to like real food and I crave it, and this lifestyle has worked for me for the past 18 years. I have no plans of changing it up anytime soon and I've become even more flexible since being a mom.
All that said, here's a highlight reel of some of my favorite Trader Joe's staples.What are some of your favorite Trader Joe's items? I love that they are constantly coming out with new things to try and I pick up something new or seasonal every time I go. I just picked up these creamy tomato soup crackers, but haven't tried them yet, but Braden is obsessed with tomato soup so I feel like he'll like them.
Everyday Trader Joe's items and Pantry Staples I love: 
Organic Liquid Stevia – I use a few drops in my coffee every day. I have three in my cabinet right now, and this costs half as much as what you'd find at Whole Foods.
Everything but the Bagel Seasoning Blend – so delicious sprinkled on avocado toast, eggs or roasted veggies.
TJ Premium Extra Virgin Olive Oil – I know some people are really picky about olive oil, and I do know a little about olive oil because I previously worked on a few olive oil brands that we had as PR clients. Trader Joe's Premium EVOO and their regular EVOO are both  really affordable — I think around $6.99 for a 33 oz. bottle of the regular and $8 for the premium. I use both for everyday cooking. The Premium is slightly more fruity and comes in a quart container.
Organic EVOO spray  – This non stick cooking spray isn't in an aerosol can and has no propellents. I use olive oil spray for quick cooking things in like eggs all the time.
TJ Coconut Oil Spray –  This non stick cooking spray is great for baking and high temperature cooking. It has a mild flavor either.
Organic condiments such as ketchup, yellow mustard, mayo etc. Organic condiments are expensive, but at Trader Joe's they are typically less than half of what it cost at the mainstream grocery store. I think mustard is less than $2 and that'll last a few months in our fridge.

Organic Coconut aminos

– If you're a Whole 30 or paleo devotee, you're probably familiar with coconut aminos. It's a seasoning sauce that can be likened to soy sauce or tamari, but less salty. I made this recipe for Sesame Orange Chicken in the InstantPot a few days ago, and it was AMAZING. I'll definitely be making it again.
Ghost Pepper Potato Chips – these are like crack. I love them so much and they're not healthy but they're soooo good.
Roasted Plantain Chips – I love chips and these make me feel like I am getting that fix.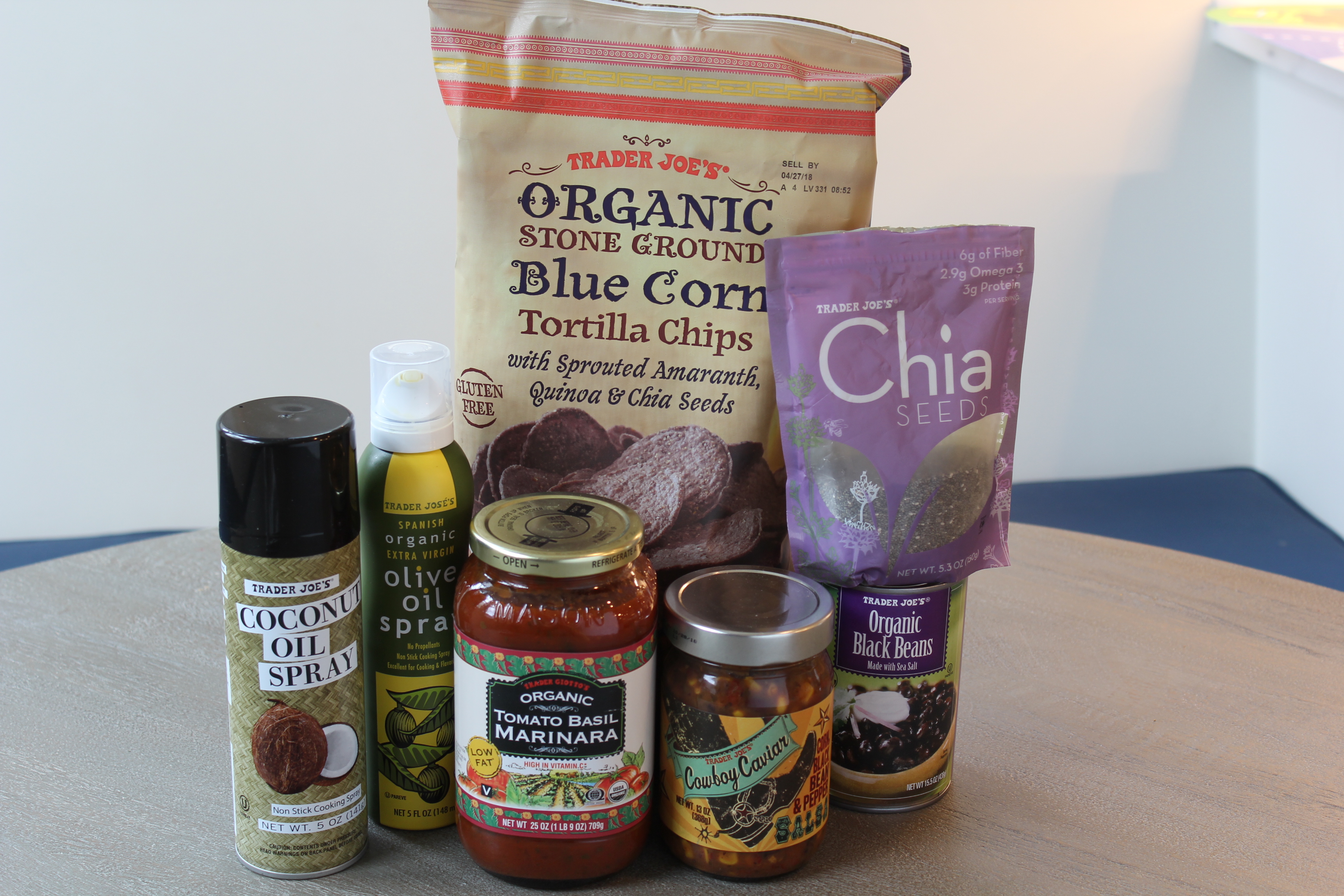 My Go-to Frozen Items from TJ's:
Organic Brown Rice – We eat a ton of rice in our house, and I have a legit Asian rice cooker that we make jasmine rice and brown rice in, but you can't beat brown rice in three minutes, especially for busy weeknights! We paired this with the Honey Sesame Chicken recipe I mentioned above.
Roasted Vegetable Multi-Grain Lasagna – this is actually quite good and I think it costs $6.99. Braden says it tastes like pizza and will eat a pretty large portion of it, and it has a ton of veggies in it.  I typically pair with a salad for another quick, last minute weeknight meal. I think I have three of these in my freezer right now.
Mandarin Orange Chicken – I also have three bags of this in my freezer right now. I wouldn't call this healthy maybe more healthy-ish, but my husband loves it, as does my toddler. We make the frozen brown rice I mentioned and steam some broccoli, and it gives us our Chinese takeout fix.
Fire roasted bell peppers – We make fajitas a lot in our house, which we can do on the fly since we typically have chicken or flank steak in our freezer. Like I said, I like to have things on hand that make meals and that includes staple proteins like chicken breasts, flank steak, ground beef or turkey. So, these peppers are great to add to fajitas or tacos.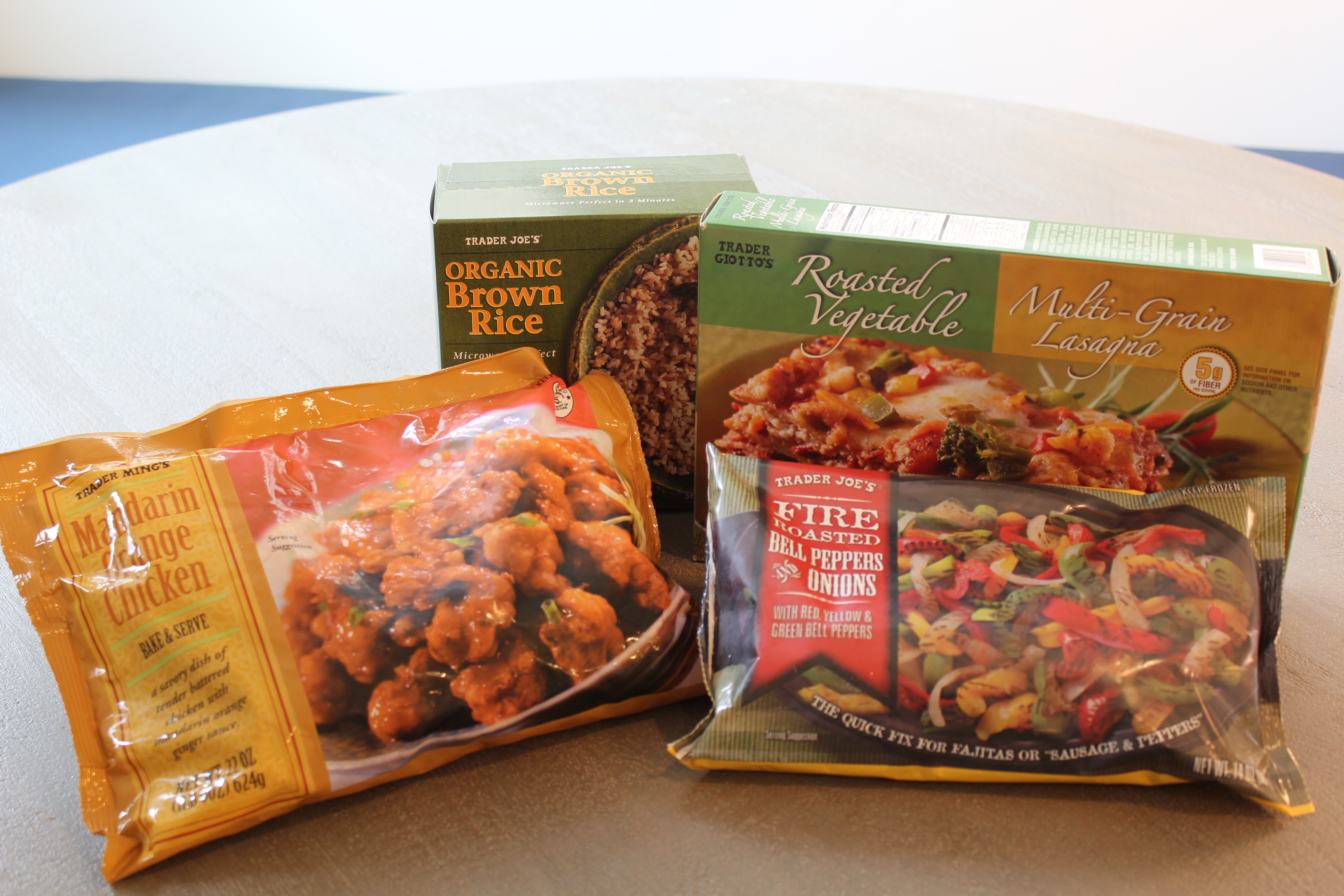 Regular Fridge Items:
Organic greens – Trader Joe's has a plethora of organic bagged greens such as arugula, kale and spinach at great price points. When I am there, I'll pick up about three bags of things which is what our family consumes in a week's time. This kale is perfect for kale chips. I would buy more if I could get them to last longer.  I am a person who needs lettuce pre-bagged and ready to eat because it just saves me time.
Sliced mango – I just love mangos and could eat three a day so this is perfect for snacking since it's all cut up.
Beets – perfect for quick salads
Salmon dip – I love smoked salmon on bagels but I don't get to eat that too often. But, this cream cheese based dip when paired with everything bagel chips or pita chips reminds me of a lox bagel. Braden likes this dip a lot as well, and let's face it. When you find something your 3.5 year old will eat a lot of it then becomes staple. My kid isn't picky, but it's hit or miss if he wants to eat.