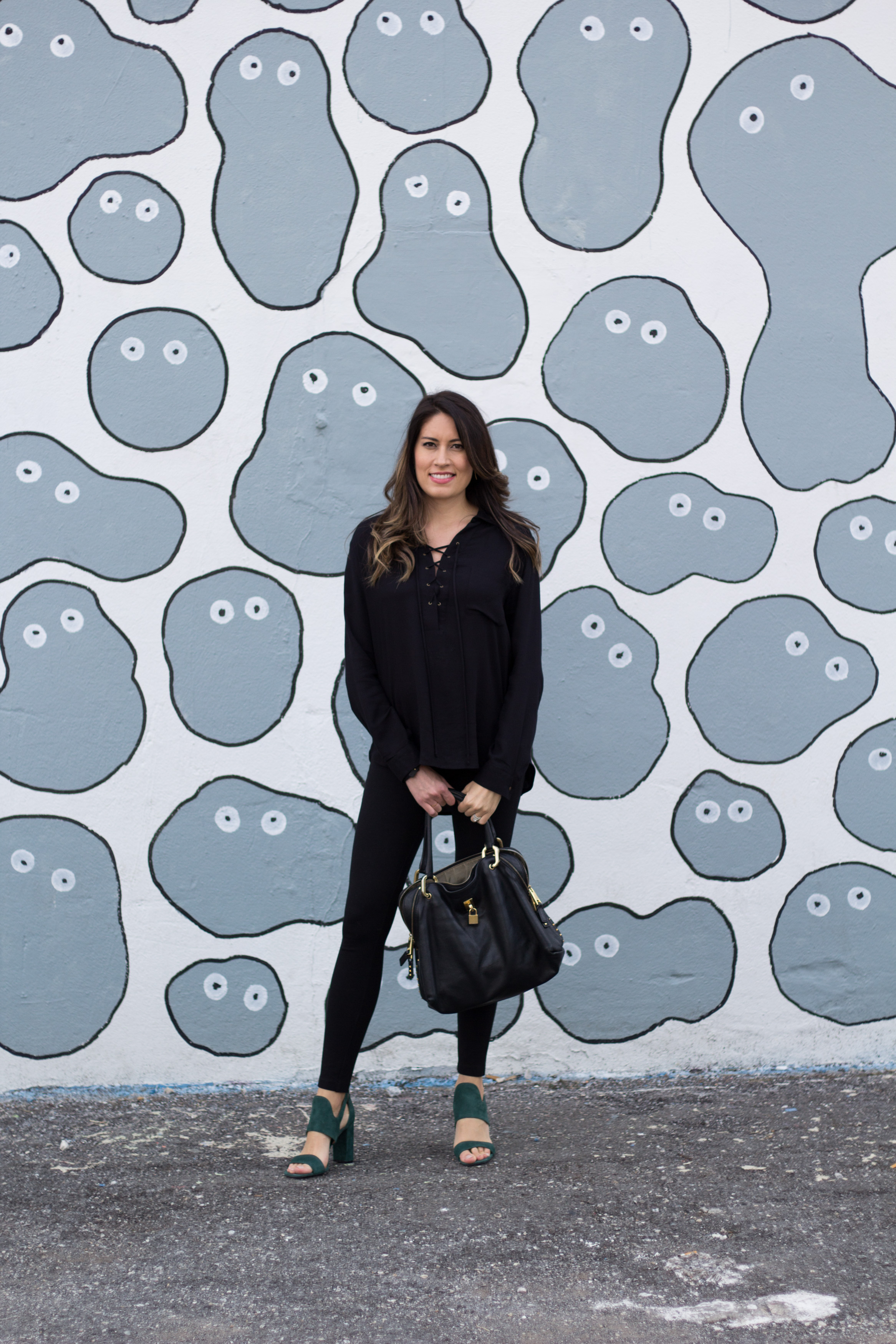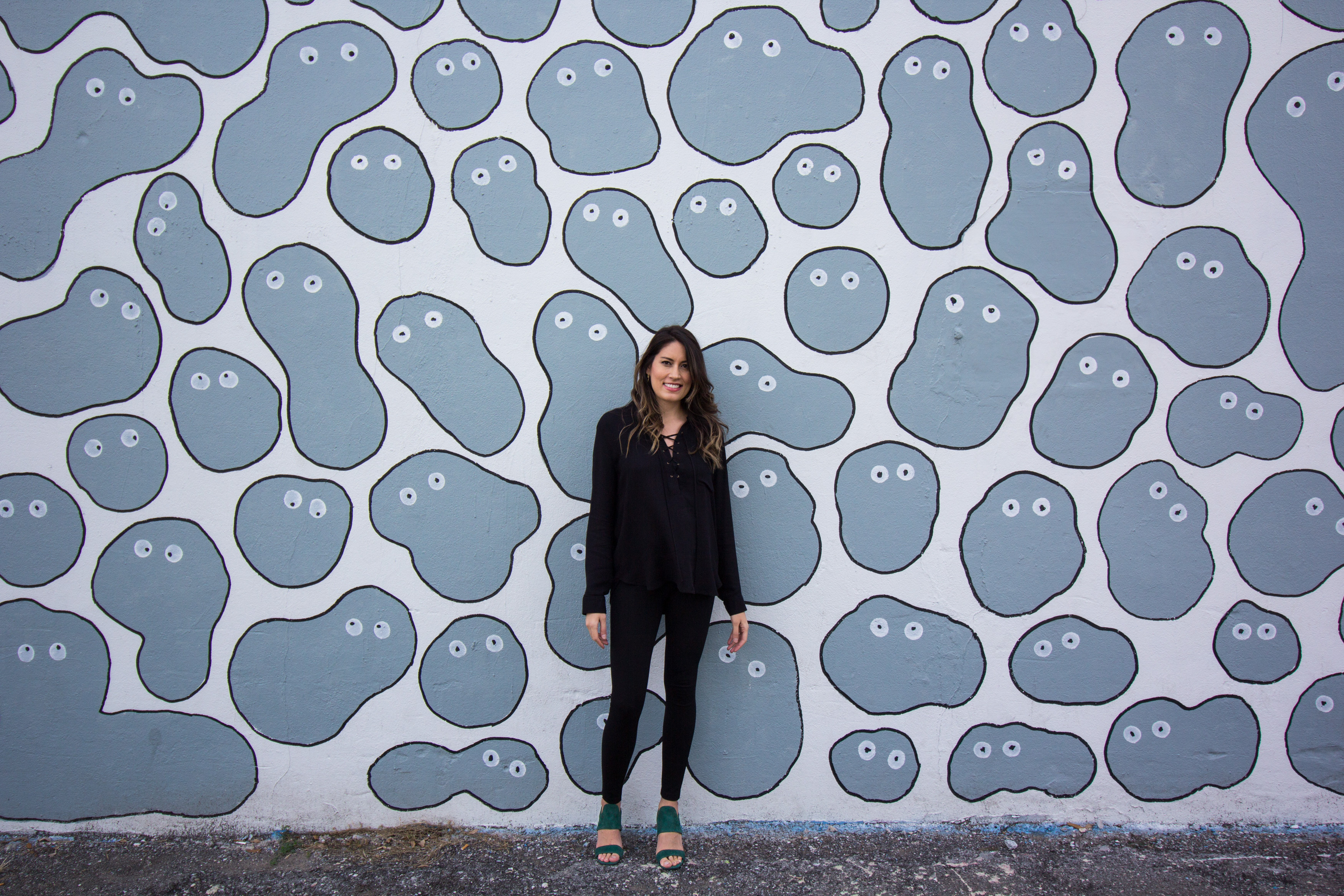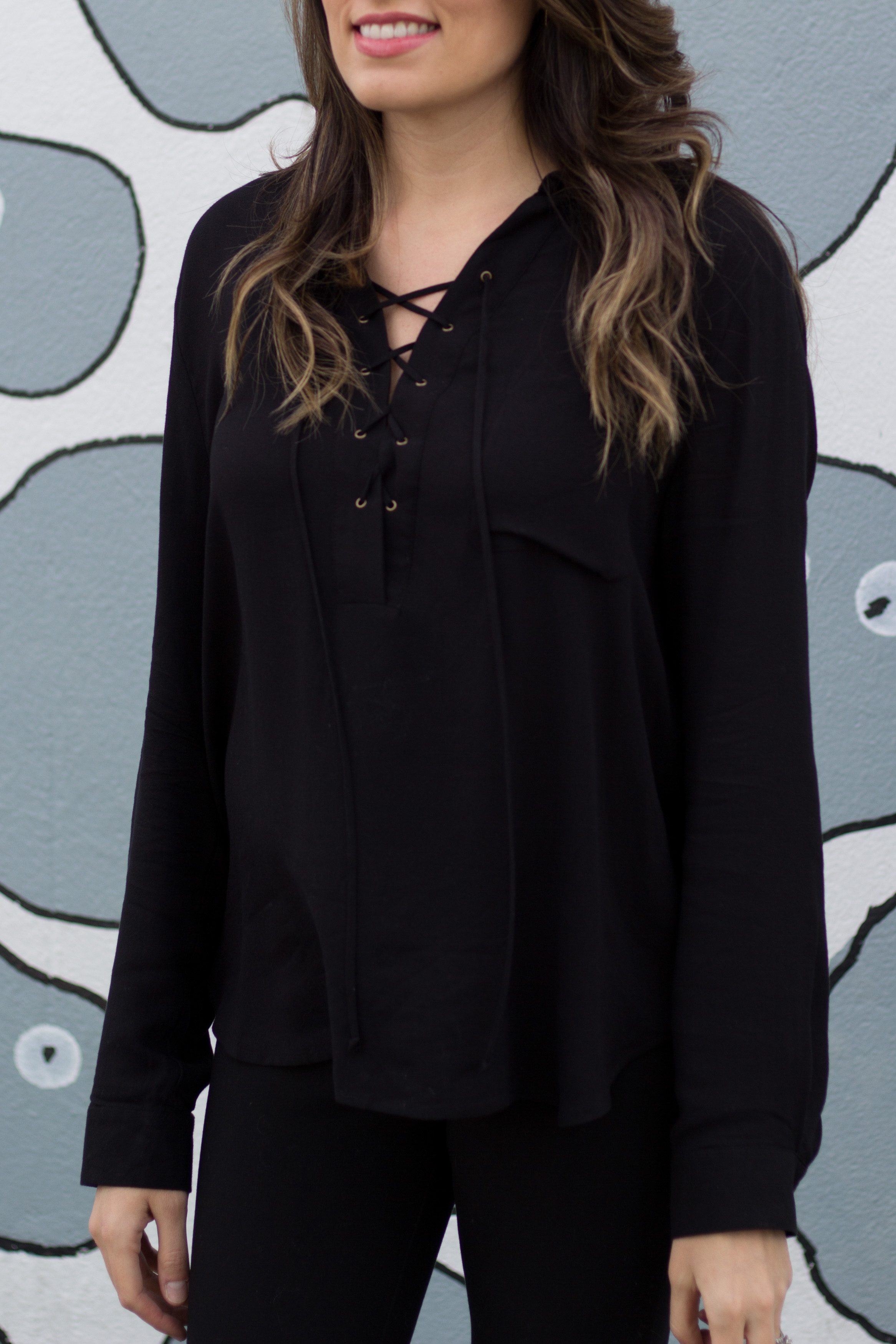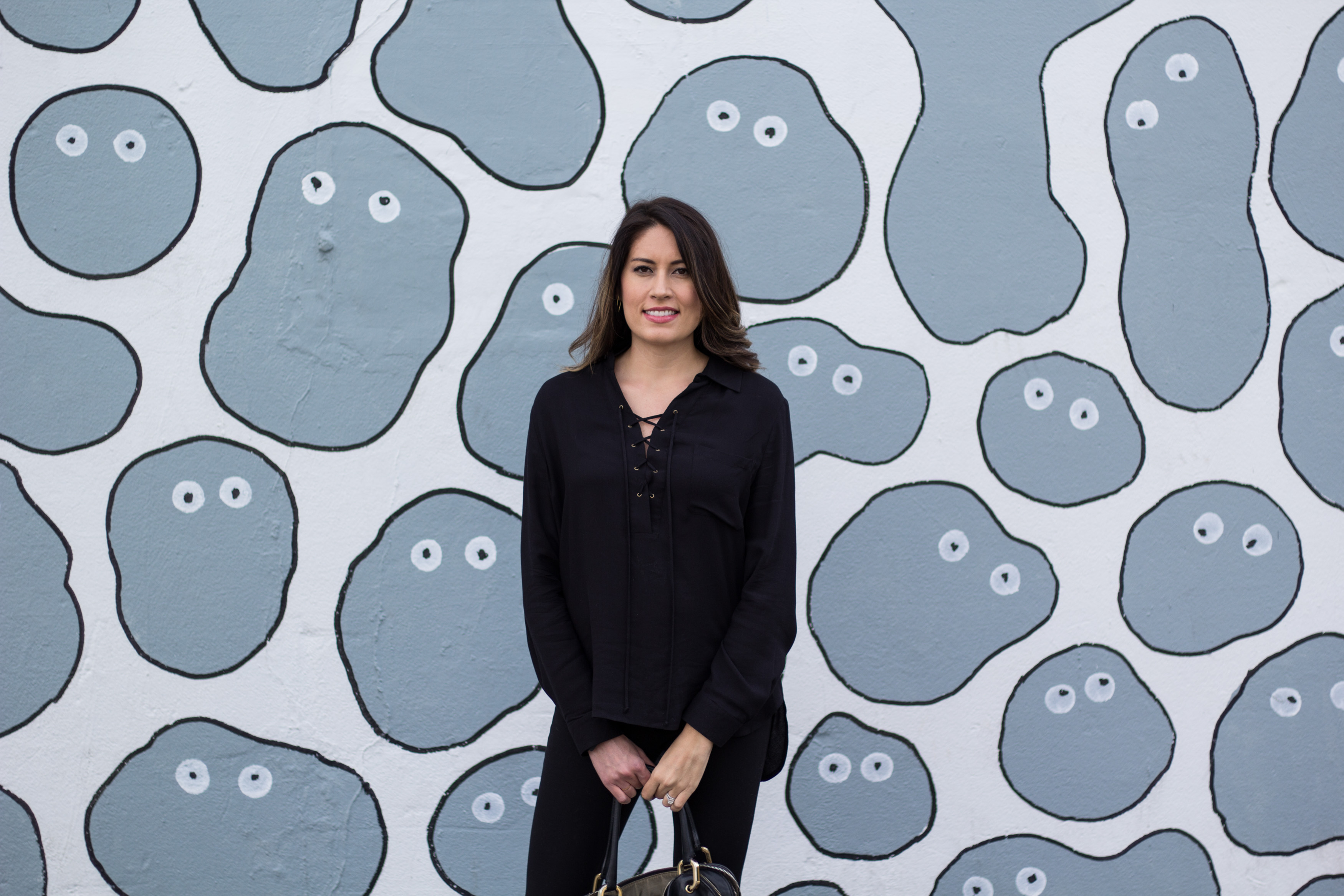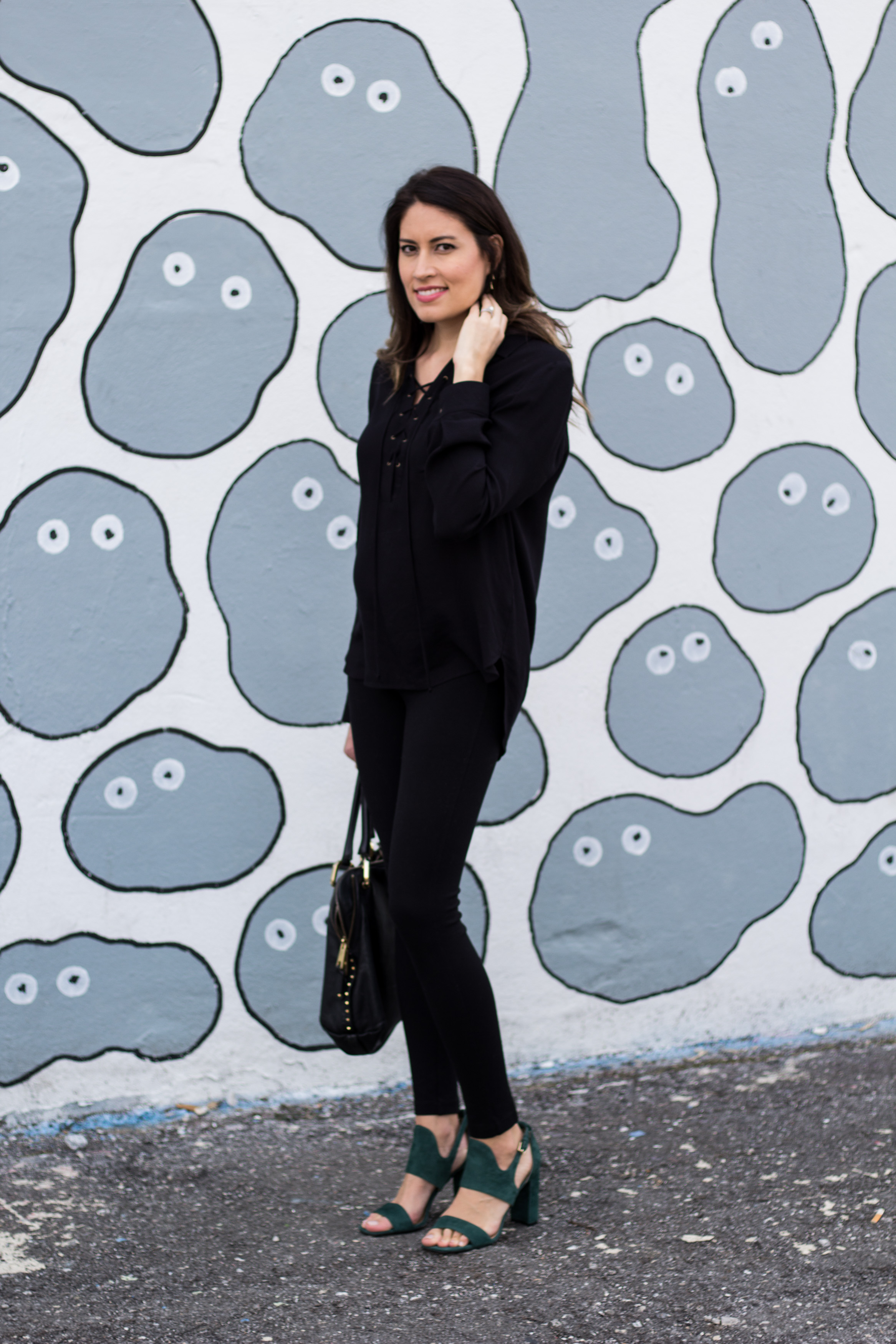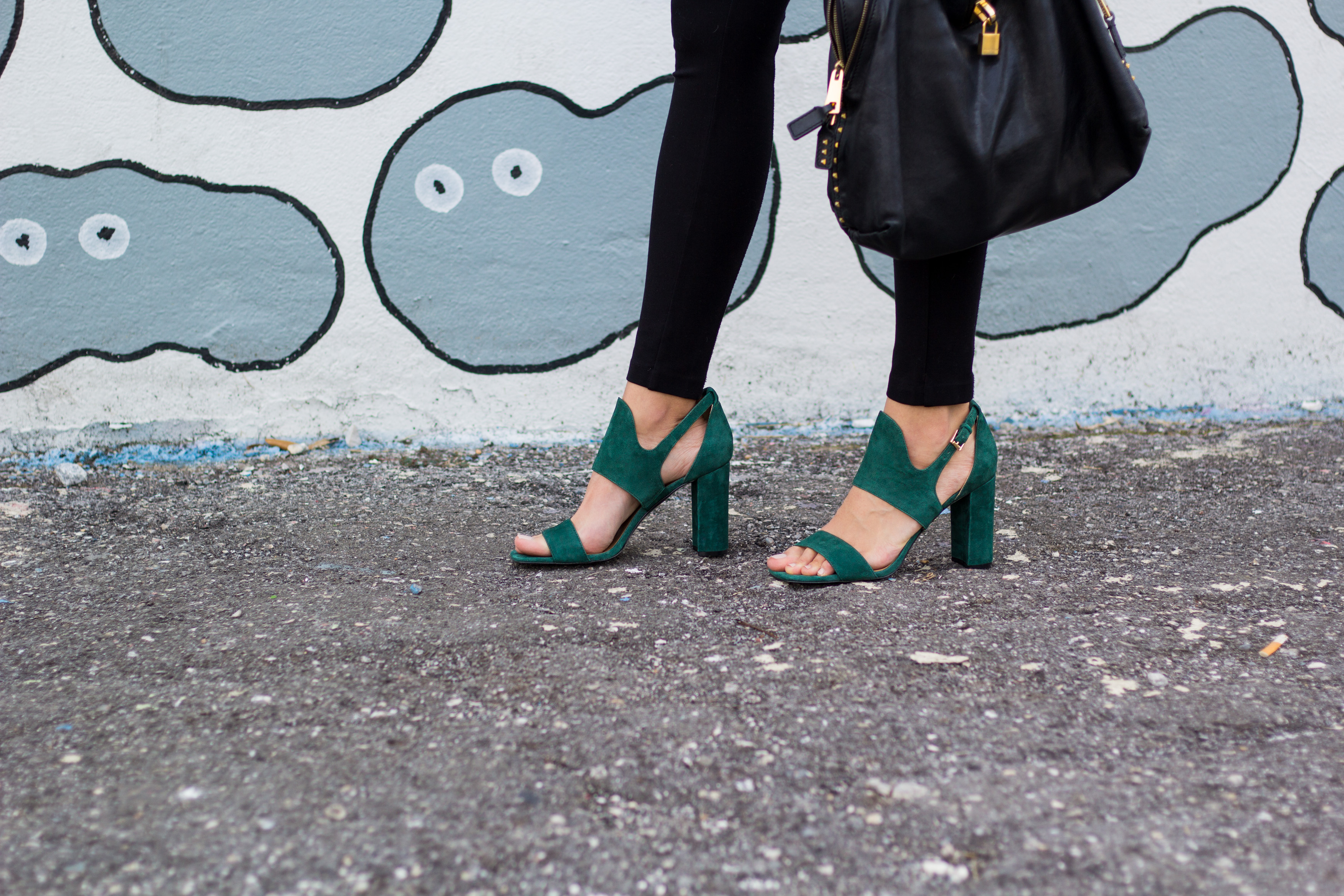 I've been all about the flowy tops that are non-maternity because I'm sporting what looks more like a large food baby than a real baby. I bought this black lace-up tunic a few weeks ago, and I've been wearing it a ton. Wearing all black is not something I do a lot, but when I do, I love including a pop of color with shoes or accessories. These hunter green shoes are fun and comfy since they have more of a chunky heel.  I've also pulled out my J.Crew pixie pants, which are  like leggings but better because they're thicker and more structured. Because they have great stretch, I can still wear these non-maternity pants for awhile. They're also excellent travel pants because they're comfy and take up very little room in a suitcase. I have them in 3 colors and bought them a few years ago and I still wear them a lot. They're still something J.crew offers year after year probably because they're so amazingly comfortable and timeless. I wear them a ton in the fall and winter with sweaters and cardigans, and pair them with heels, booties, flat riding boots — the list can really go on.
I  love the lace-up detail on this shirt, and I've picked up a couple of other tops with similar detail. It's not available anymore (sadly since it's great quality and was a steal at $65), but I've linked to some very similar options including this one, which I have in a cream color and actually wore today. Hi,  Houston fall weather!
We have been spending time outdoors since the weather has been pretty amazing, and we stumbled across this mural near the Lawndale Art Center when we were in the museum district this weekend. I love the Houston Mural Guide. It's such a fun way to capture all the great spaces in the city and can't wait to visit more! Braden loved the googly eyes.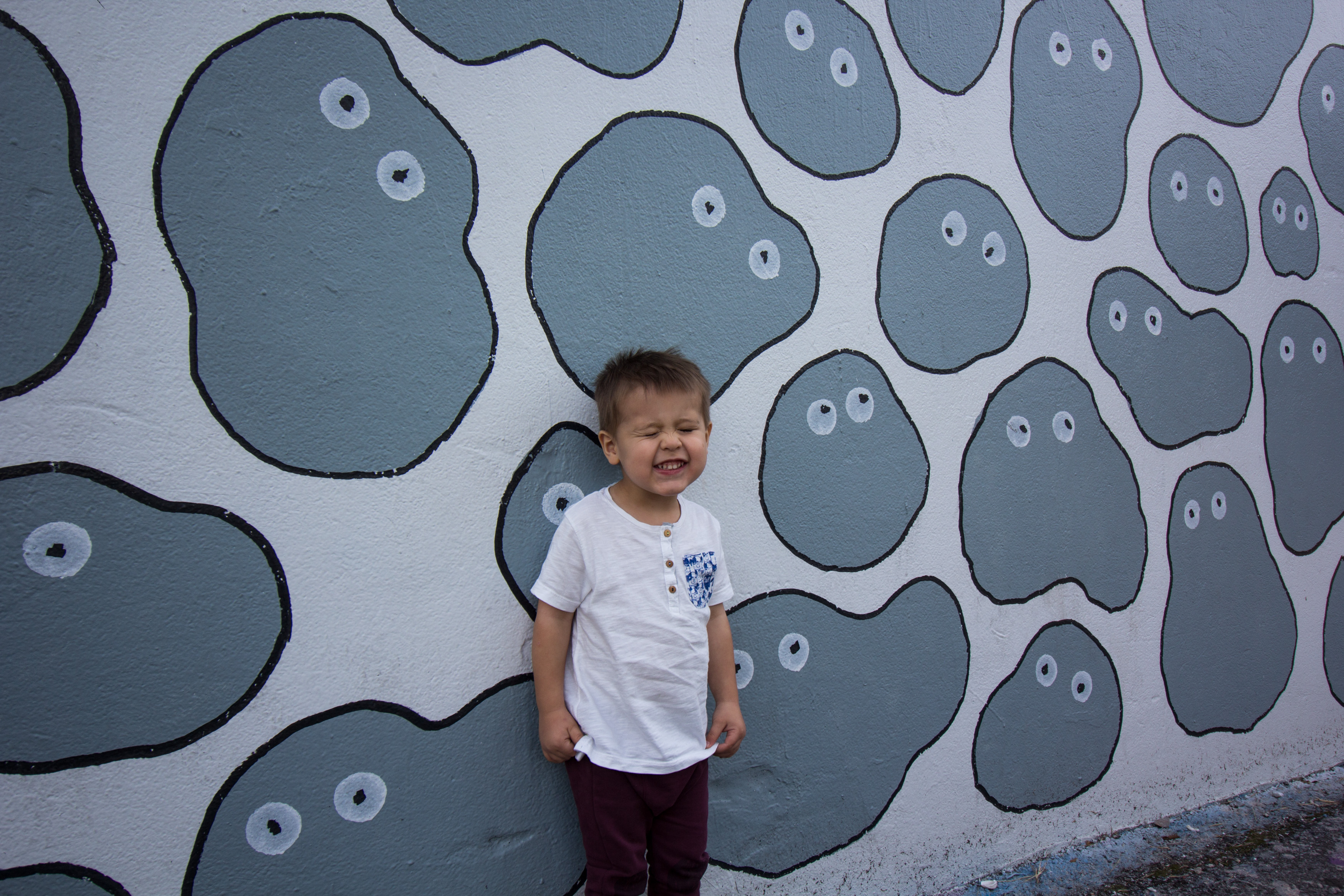 (This is what happens when you say, "Smile, show me your teeth!")
A quick pregnancy update at 19 weeks: eating has become my second job. I don't recall being this ravenous in my first pregnancy, and I haven't gained much weight. This may sound annoying, but it's almost time-consuming to have to pause what I'm doing to eat 4 snacks at work in addition to 2 breakfasts and pretty much dinner and a bedtime snack. The sheer volume of food I consume is pretty surprising actually but I'm trying to be somewhat smart about it. I sure do love peanut butter toast, though. (I've already passed down this addiction to Braden. Whoops.) I'm definitely more tired this go-round too but I think that has to do with having a toddler. But, as my husband says, " If you go to bed at 9pm it's like sleeping in but in reverse." So, I've been a grandma and going to bed around 9-9:30pm most nights.
I don't love most maternity clothes, but very open to suggestions, so send them my way if you have them! I still gravitate to more versatile non-maternity pieces like this black lace-up top that can be worn post-pregnancy.
Top: Wayf version in black sold out but I've linked to the striped option available here and black options here and here | Pants | Shoes | Marc Jacobs Handbag (Old)
Save
Save
Save
Save
Save
Save
Save
Save