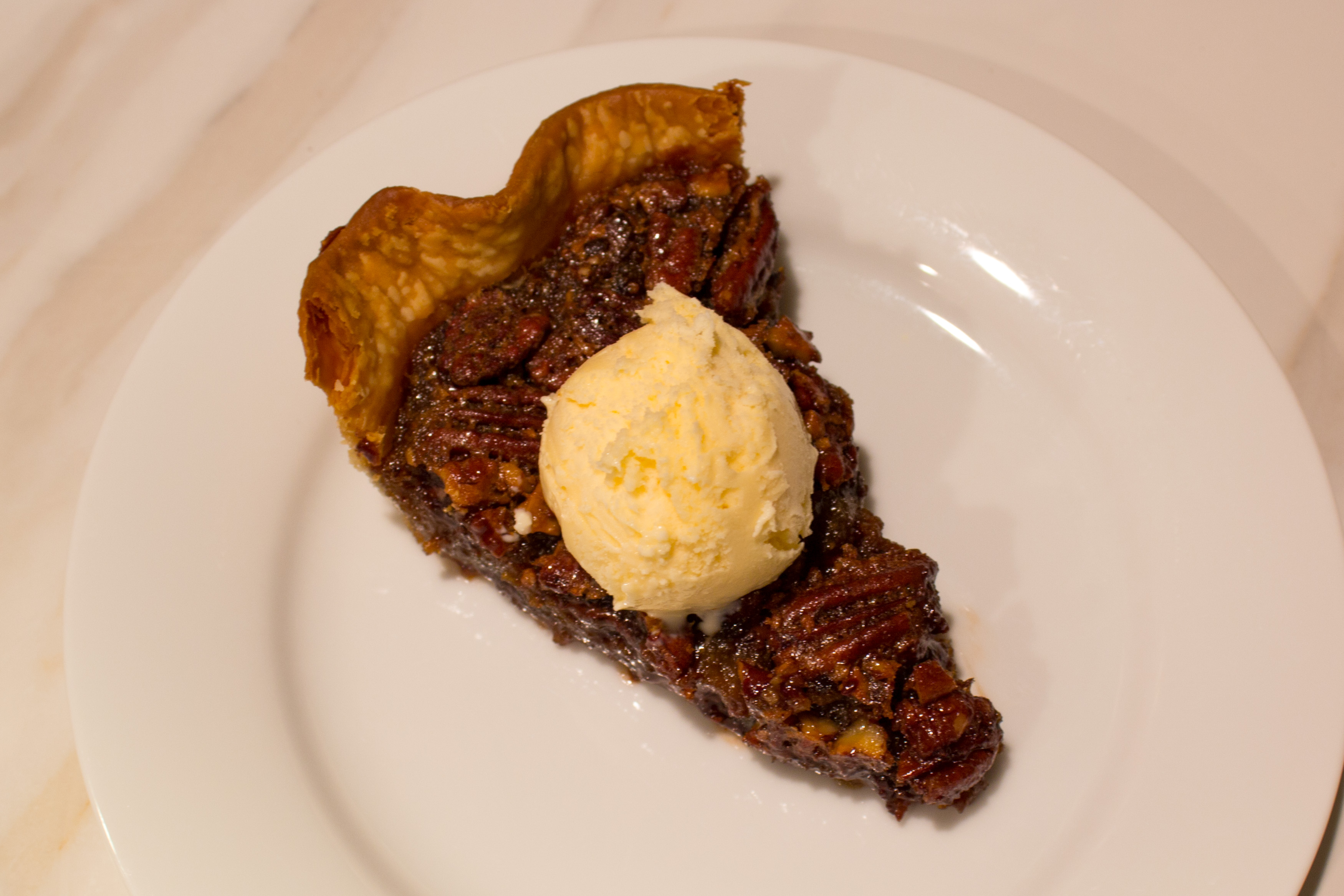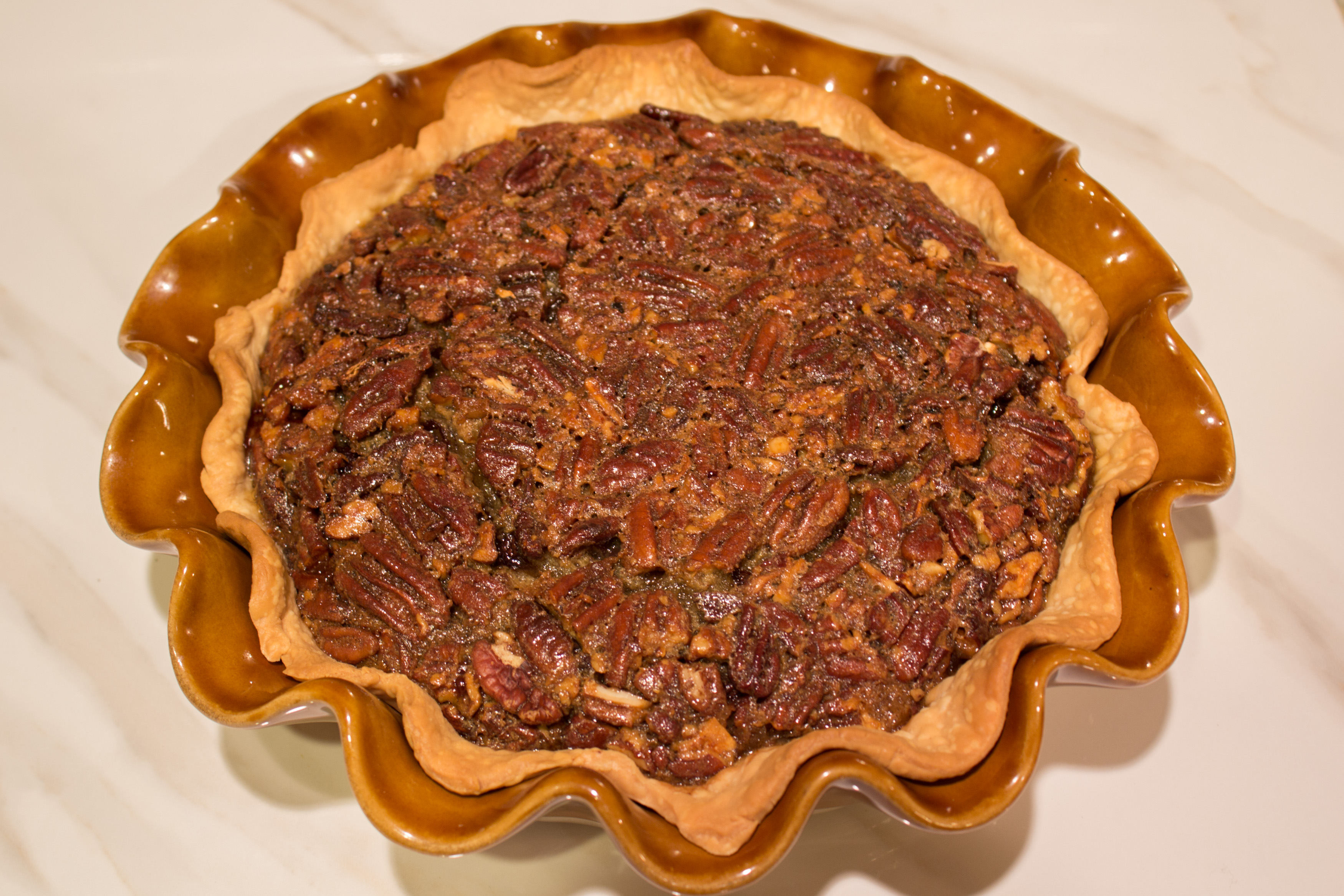 I'm always in charge of making the desserts for my family holiday celebrations. My husband is a really great baker and will often make an amazing apple pie. I think his love for baking is something  he inherited from his grandmother who had amazing recipes her grandchildren often talk about. He makes a few like her famous pepperoni rolls. Maybe I'll share those in a few weeks since we're smack in the middle of holiday binge season! We don't shy away from carbs around here. Since he is a big fan of desserts, I've inherited that from him and started experimenting with a lot of baking over the years. We are pretty healthy eaters in my house, but I don't like to skimp when it comes to desserts and holiday favorites!
One of my go-to recipes around the holiday that always goes over really well is this chocolate bourbon pecan pie I discovered a few years ago. It's a recipe from Food and Wine magazine, and I've adapted a little over the years. My version is listed below but I've linked to the original version here.
If you're out and about doing your Thanksgiving holiday shopping, definitely try this one. People will gobble it up! I think guys really like it, too, especially if they're bourbon lovers like my husband. I think the hint of bourbon (and my other alterations to the recipe) make it the BEST pecan pie. The biggest changes I've made include using a Pillsbury ready-made pie crust. When you can cut corners like this without sacrificing quality and taste, then I'm all for it. My choice is chocolate chips is important, I've found so I really recommend the mix and brand I've noted below in the ingredient list. I typically serve pie with Bluebell Homemade Vanilla ice cream because it's Texas, y'all. Bluebell is definitely a favorite in my house.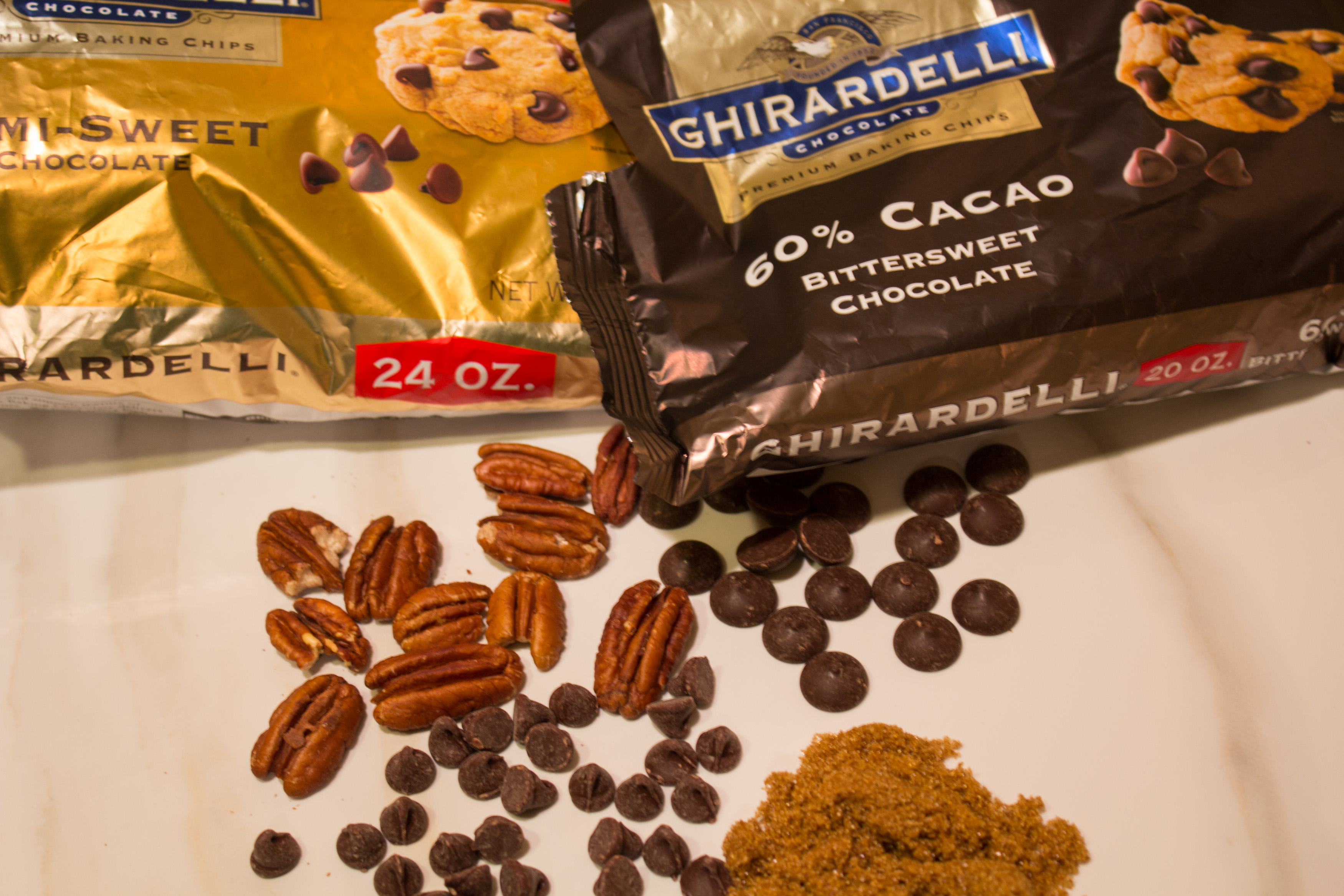 This beautiful pie pan is from William Sonoma, and I just love it. It was a gift we received a few years ago, and I actually went last week to the store to try to buy another one in white, but they were all sold out so I'll have to buy one online.
Enjoy!
Chocolate Bourbon Pecan Pie
Ingredient List
1 Pillsbury refrigerated pie crust
2 cups (about 7 ounces) pecans
3 large eggs
3/4 cup dark brown sugar
2/3 cup light corn syrup
1 teaspoon pure vanilla extract
2 tablespoons unsalted butter, melted
3 tablespoons bourbon
1/2 teaspoon salt
3/4 cup semisweet or bittersweet chocolate chips.
I use this total amount but I mix together Ghirardelli chocolate chips – ½ semisweet and ½ 60% cacao bittersweet chips. (I've found them at Kroger and World Market.)
Directions
Preheat the oven to 375°. On a rimmed baking sheet, toast the pecans for about 8 minutes, or until fragrant; coarsely chop.
Note: I only need to toast them in my oven for about 4 minutes, otherwise they burn really quickly and if you over toast them it definitely changes the flavor. I recommend monitoring this really closely and check after 3-4 minutes and add more time if necessary since ovens differ.
In a large bowl, whisk the eggs with the brown sugar, corn syrup, and vanilla, melted butter, bourbon and salt until blended. Stir in the pecans and chocolate chips until evenly distributed.
Pour the filling into the pie shell. Bake on the bottom shelf of the oven for about 55 minutes, or until the center of the pie is set. Tent the crust with foil halfway through the baking time if the edge is browning too quickly. Transfer the pie to a rack and let cool for at least 1 hour before serving.
Note: I cook my pie for about 45 minutes because my oven cooks fast. I tent the crust about halfway through, around 22 minutes to prevent it getting too brown and crusty.
Make Ahead
The pie can be stored at room temperature for up to 1 day. Rewarm at 325° for 15 minutes.
Note: I make my pies either the night before I need them or in the early morning day-of to help free up my oven before I need it for all my other holiday cooking.