If you follow me on Instagram (reenlucas) or Snapchat (laureenlucas9) you may have seen me share my love of zoodles, aka zucchini noodles. Braden is pretty good about eating veggies if he's in the mood (#toddlerproblems) but he won't eat zucchini, which is something we roast or grill quite often. But, when we make zoodles, this kid wants to eat them up and will even eat them plain! When I discovered this, I felt like I hit the jackpot!  Braden is  a pretty good eater, but skeptical at first. However, he did not hesitate with the zoodles. He loves watching us make them, too and will often say, "Watch!" or "Braden help, Momma!" because he's the best little kitchen helper in all the land and likes to be a part of the spiralizing process. Because of all of this, zoodles have been a weekly staple in my house since  I received the Spiralizer as a Christmas gift. I know there are other spiralizer gadgets out there, but I am a big fan of this version. My friend Paige says she has a manual version of it, and she doesn't love it so I say go with this one because I love it. 🙂
A recipe we make quite a bit is Skinny Chicken Parmesan from the Skinnytaste cookbook. There are tons of Skinnytaste recipes on Pinterest, too. This is such a great cookbook filled with easy and healthy recipes that my whole family loves. I would highly recommend it. The recipe in the cookbook doesn't have zoodles paired with it, but I really love how it goes together really well and gives a nice portion of protein and veggies all in one dish.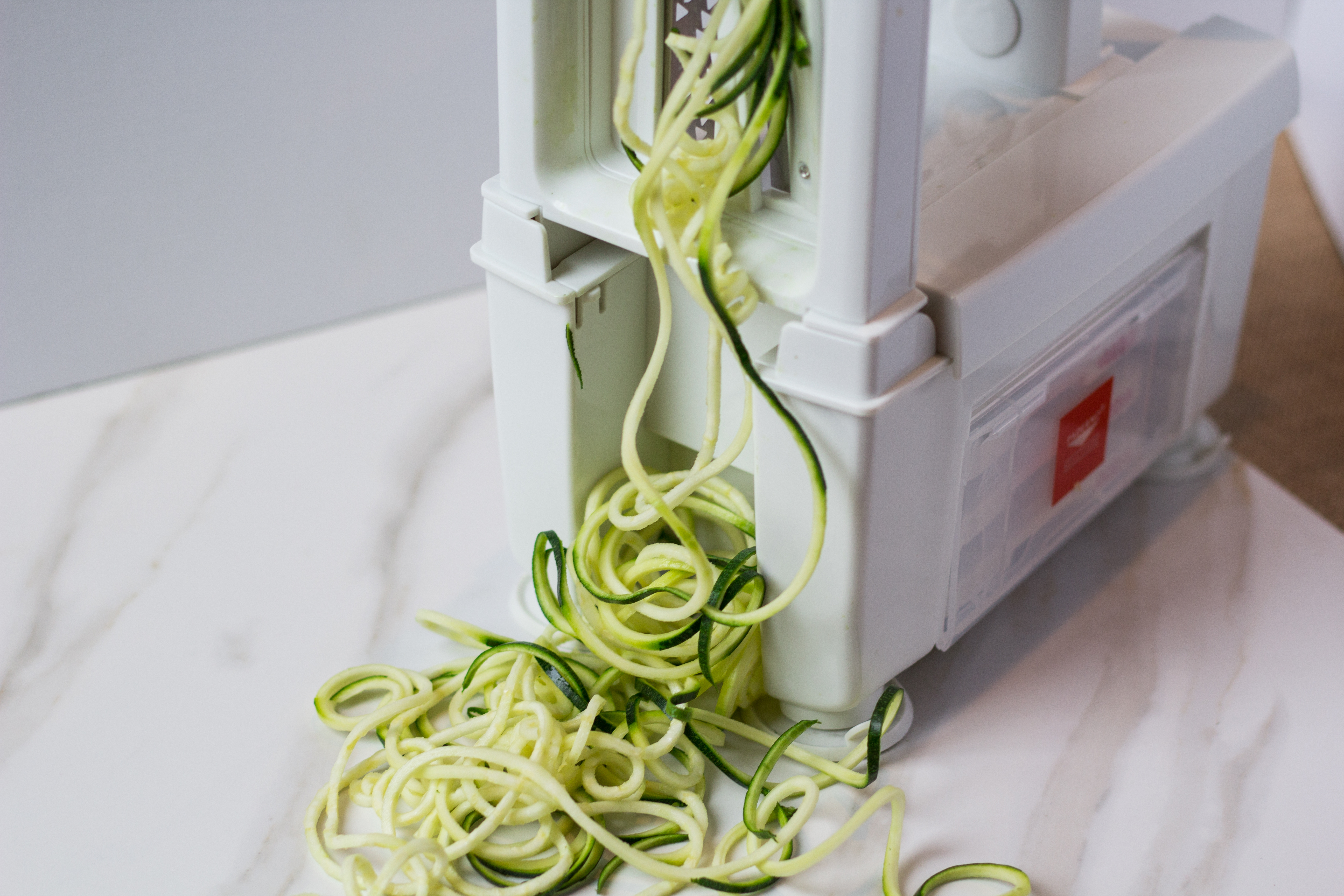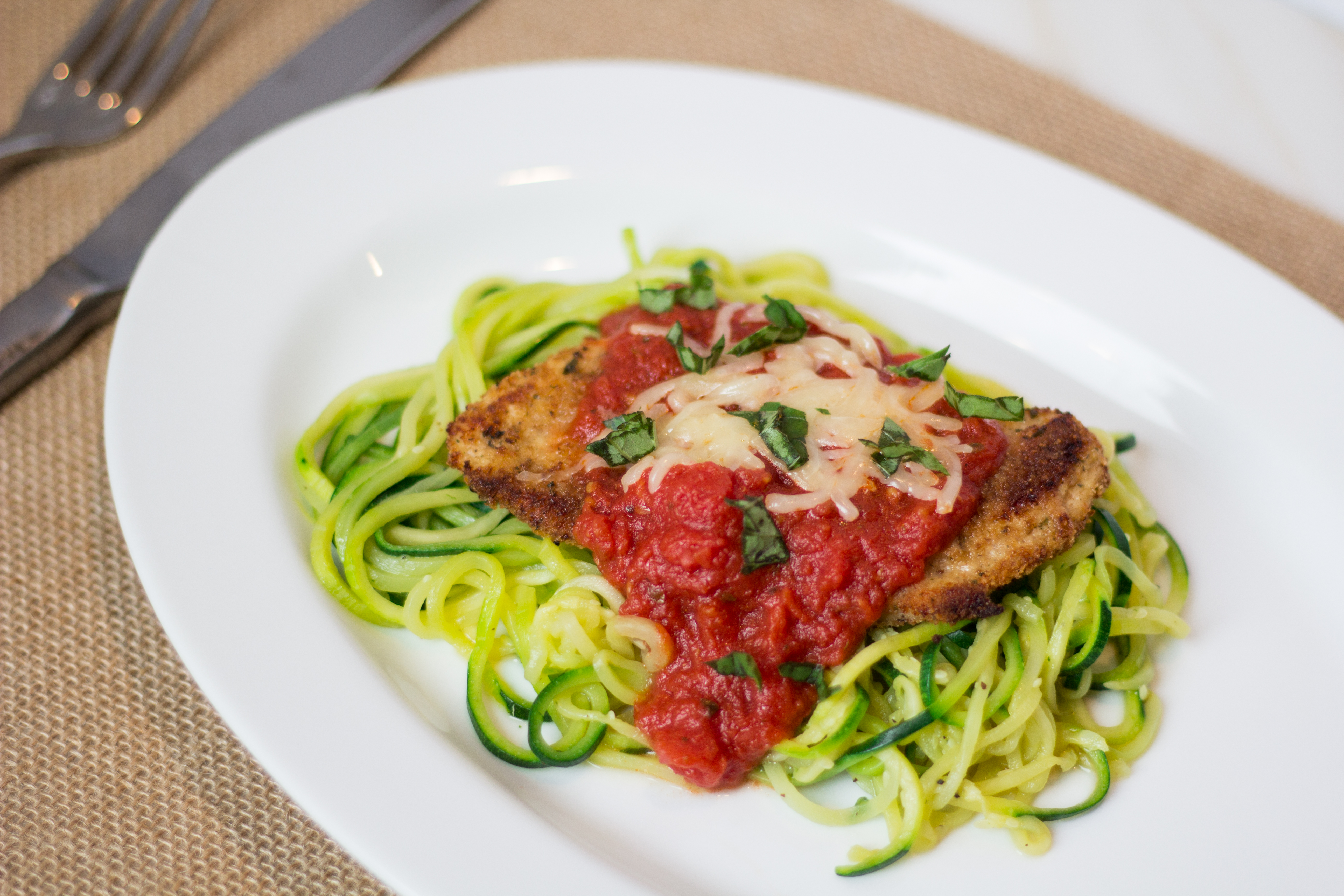 Skinny Chicken Parmesan

Serves 6
Ingredients:
Cooking spray
3 boneless , skinless chicken breasts (8 ounces each)
3/4 tsp salt
1/2 cup seasoned whole wheat bread crumbs
3 Tbsps grated parmesan cheese
2 teaspoons melted unsalted butter
1 Tbsp olive oil
2 cups Marinara sauce ( I used 1 28 ounce jar I had in my pantry.)
9 Tbsps part-skim mozzarella cheese
basil ( optional)
Directions:
Preheat the oven to 450 degrees. Lightly spray a large baking sheet with oil.
Slice the chicken breasts in half horizontally to make 6 cutlets. Season both sides with salt.
In a shallow bowl, combine the bread crumbs and parmesan. In a small bowl, combine the butter and olive oil. Brush the butter and oil on both sides of the chicken, dredge the chicken in the bread crumb mixture, and put the chicken on the prepared baking sheet. Lightly spray oil on top of the chicken.
Bake until golden on the bottom, about 20 minutes. Turn the chicken over and bake until the center is cooked through and the bottom is golden, 5 to 6 minutes.
Meanwhile, in a large skillet, cook the the marinara sauce over medium heat until heated through, 2 to 3 minutes.
In separate skillet, saute your zoodles. See instructions below.
The recipe from Skinnytaste says to next place the baked chicken in the skillet and top each piece with 1 1/2 tablespoons of the mozzarella. Cover the pan and cook until the cheese melts, 3 to 4 minutes.* Serve hot.
*I prefer  not to put the chicken in the pan with the marinara but rather just create plates with a layer of zoodles, chicken breast, then top that with marinara and cheese. I like to do it this way because there are typically leftovers, and I kind of like to keep things separated. I also add some chopped basil for garnish and added freshness/flavor.
Directions for Zoodles:
4 or 5 zucchini (Try to buy zucchini that are as straight as possible, as it makes it easier to spiralize.)
Cut off the bottom end of 4 or 5 zucchini. I used 4 medium zucchini for this batch. This is the perfect amount for this dish. Once spiralized, saute with about 2 tablespoons of olive oil and salt and pepper in a large pan. I don't think you can really mess this part up. I usually saute for less than 5 minutes but you just have to watch them.
***
What I love about this recipe is that it doesn't really feel like a "skinny" dish. It's flavorful and everyone in my family loves it. According to the Skinnytaste cookbook it's only 174 calories per serving and 7 g of fat, too!
We make turkey meatballs with zoodles and even throw in yellow squash into the mix, too. You really can't go wrong with zoodles or any veggie made with the Spiralizer. Do you have any zoodle recipes to share? Extra points if they're kid-friendly! 😉
Enjoy!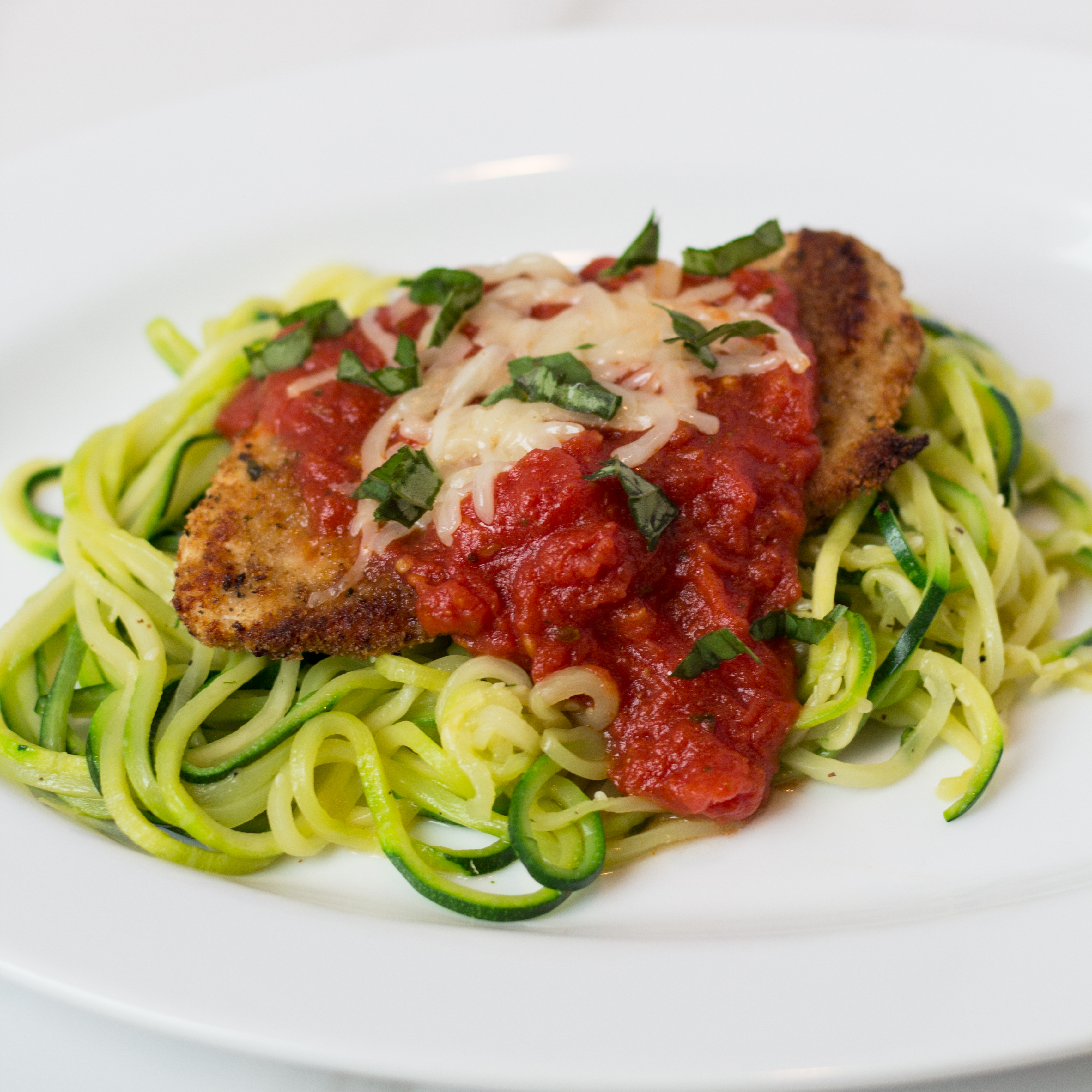 Save
Save
Save
Save
Save
Save
Save
Save
Save
Save
Save
Save
Save