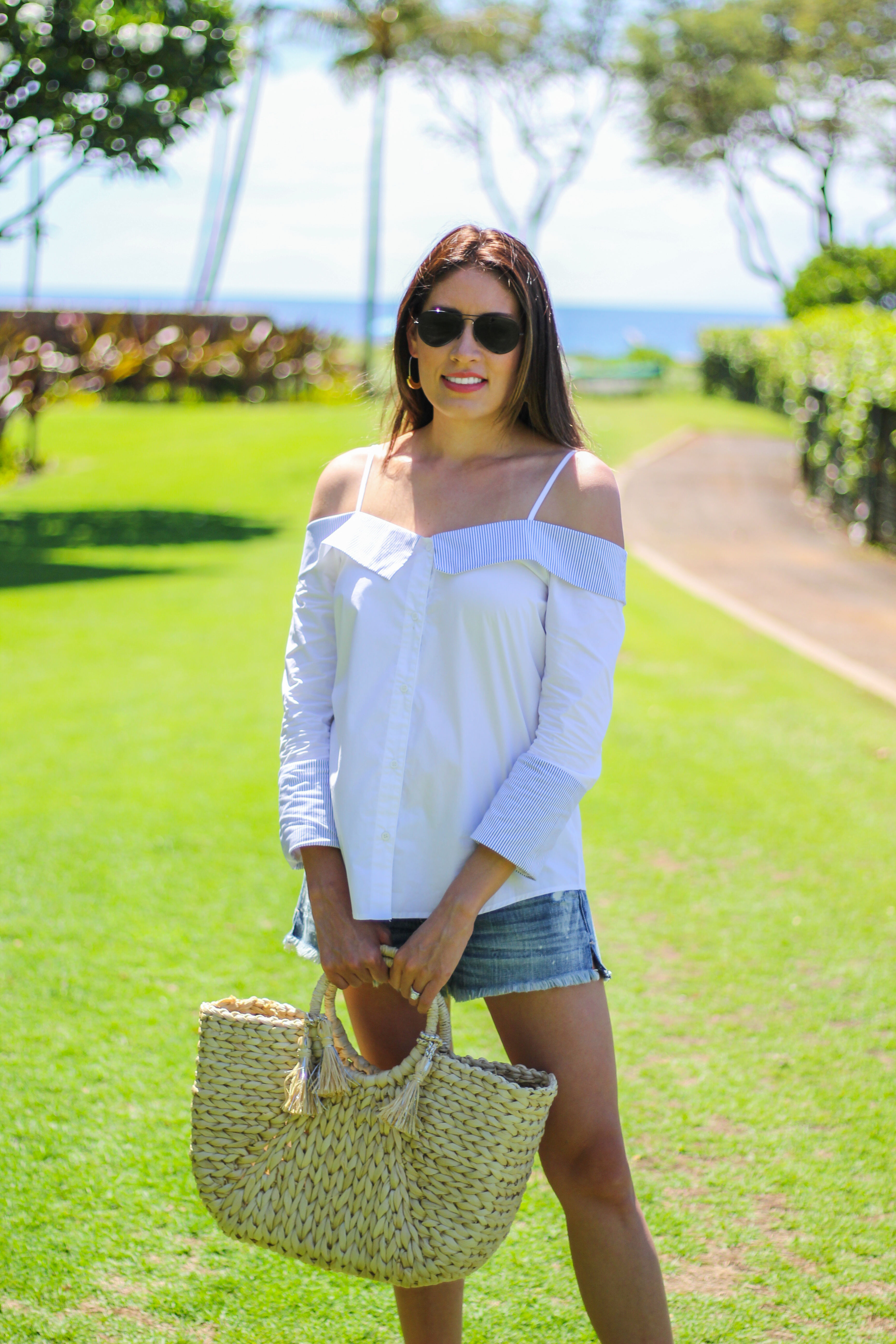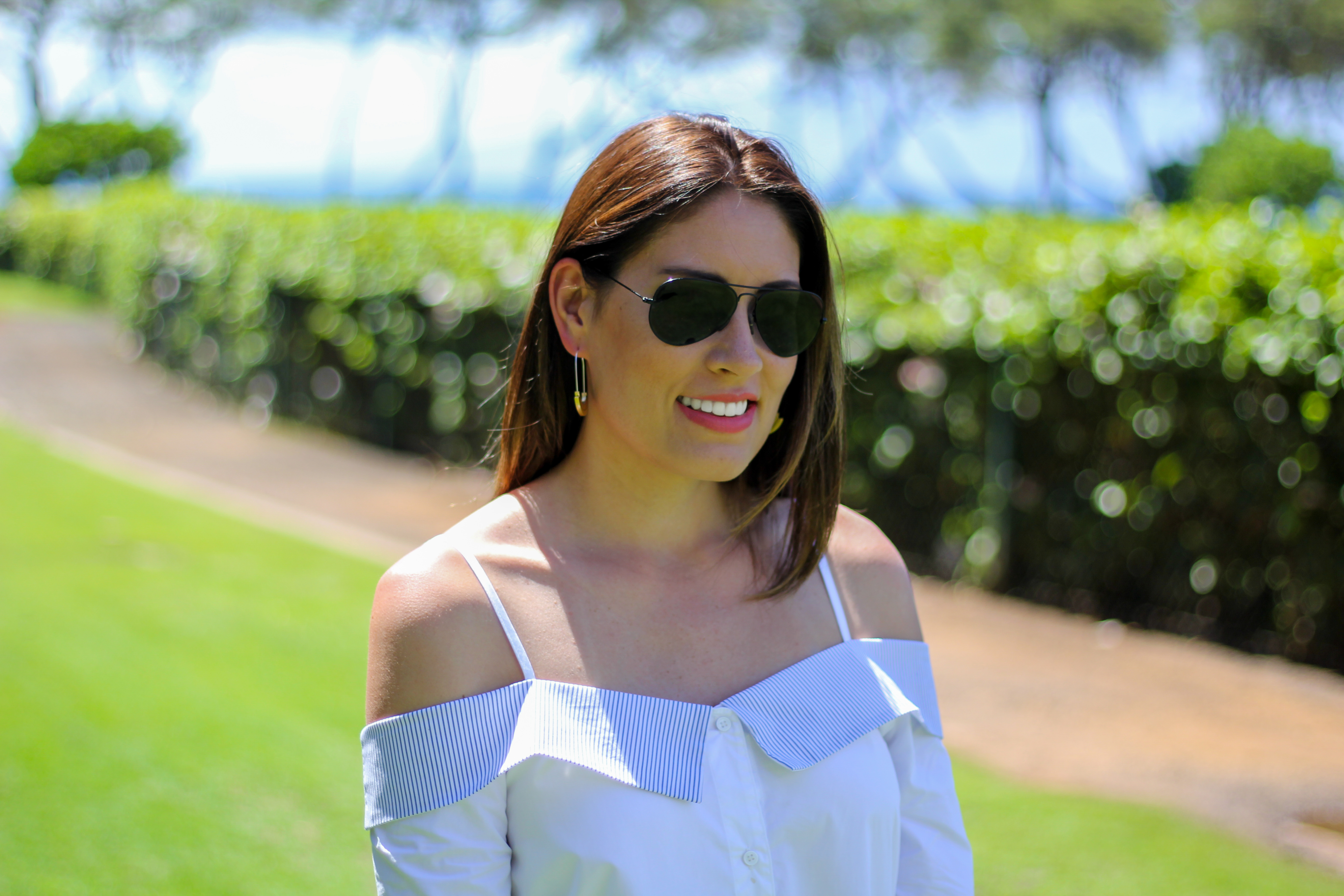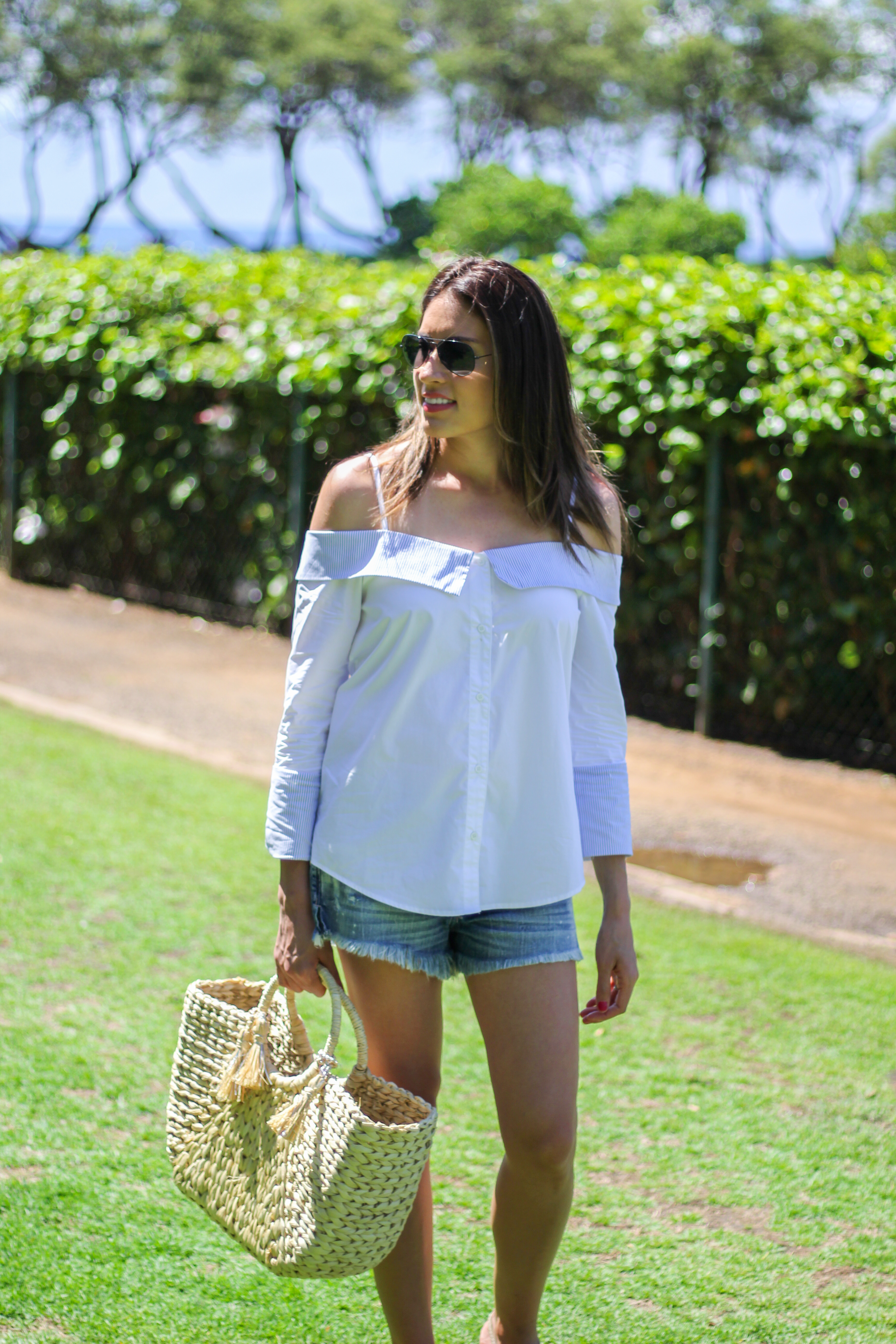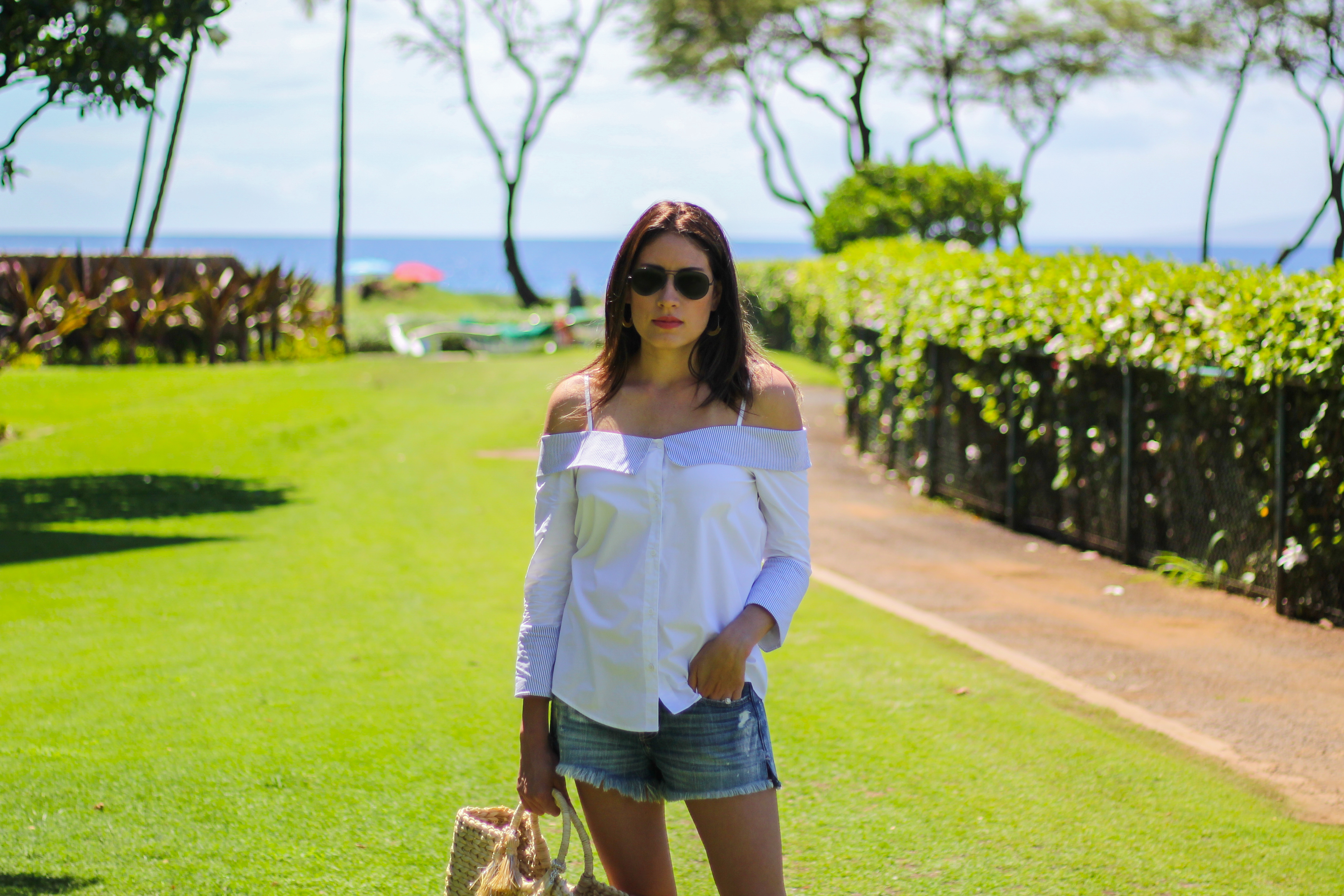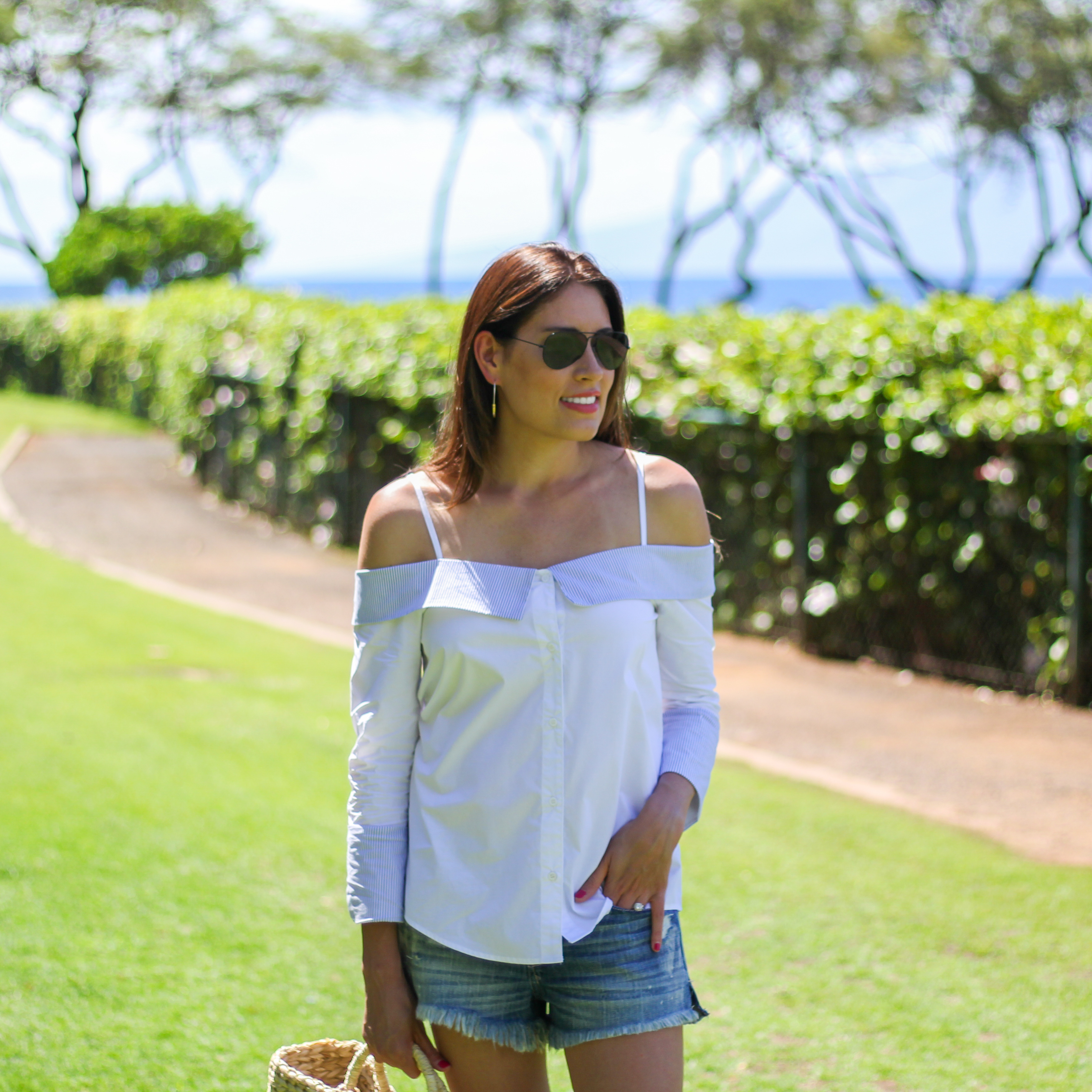 Oh, how I wish I were in Maui sporting this outfit! I brought this simple white off-the-shoulder top with stripe detail with me to Maui a few weeks ago and paired it distressed denim, a go-to for me these days since it's really starting to get HOT. Both the top and denim shorts are both pretty affordable, especially the OTS top, which I picked up during the Shopbop sale a few weeks ago and also featured here.
This denim can be a little short for some, but here is another pair I wear a lot that are still a good price point that aren't as showy.  I will say, I am pretty leggy being nearly 5'10 so I think things just look shorter on me because I'm basically a giraffe. I think everyone should have a pair of casual denim shorts because they're just so, so versatile as we enter these next few months. I can get multiple wears out of them without washing, too. Tip: hang to dry. You don't want them to get any smaller (or tighter!) after going through the dryer. I am REALLY particular about the way I do laundry.  I feel like it's helped me really extend the life of some of my clothes, especially investment pieces like classic denim. Maybe I'll do a post on that soon…would you want to read that?
Side note: It's been nice having the hubs home for two weeks so he can scratch things off our family to-do list (so much house stuff going on still. I'm not sure if it will ever end). He took on a different role at work so this is a new thing for us with an short-term, indefinite timeframe. I'm starting to get a little anxious about him leaving again next week. Eeek. Braden will be three in August, and I think that "threenager" stage is hitting us. Also, he just simply adores Ben. Like full on obsessed with his dad. It's so sweet they have that bond, but sometimes I'm like…hey there, mom is here. I can be fun, too (in between making you eat peas and shoving vitamins down your mouth.). So threenager, mixed with all the change…pray for me, y'all. I just bought two more potty books and a sticker potty chart on Amazon last night. We're breaking out all the stops including bribery, candy, etc. Sorry if you don't care, but figuring out how to get my kid to poop on the toilet is basically a part-time job for me right now. #glamorous #momlife
I'm heading to my brother and sister-in-law's  baby shower this weekend. I will be an aunt to twins — both a boy and girl  — come this August/September! Yea!
Hope y'all have a great weekend!
Outfit details: Top | Denim shorts | Sandals (old) – similar here | Straw tote (old) similar here