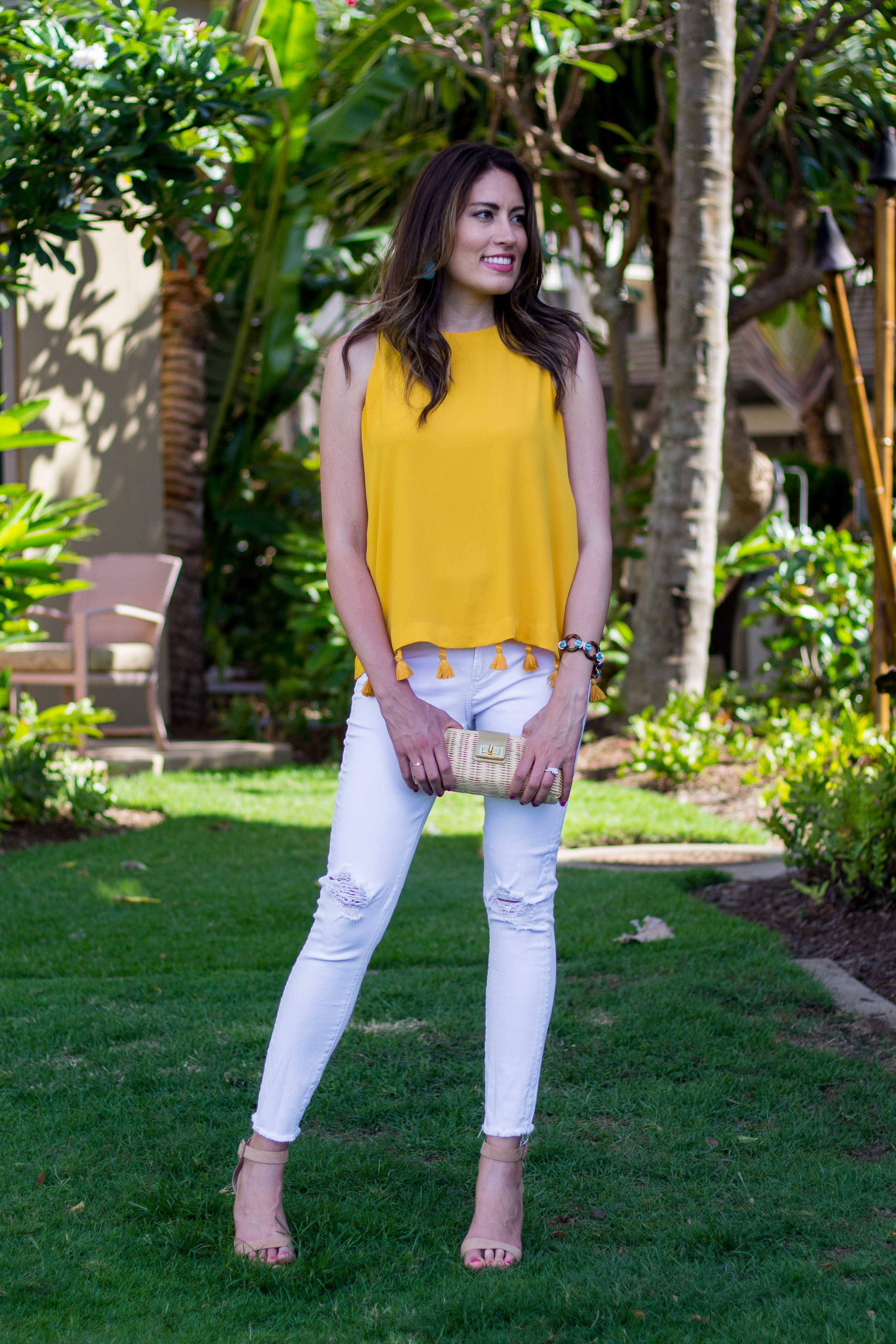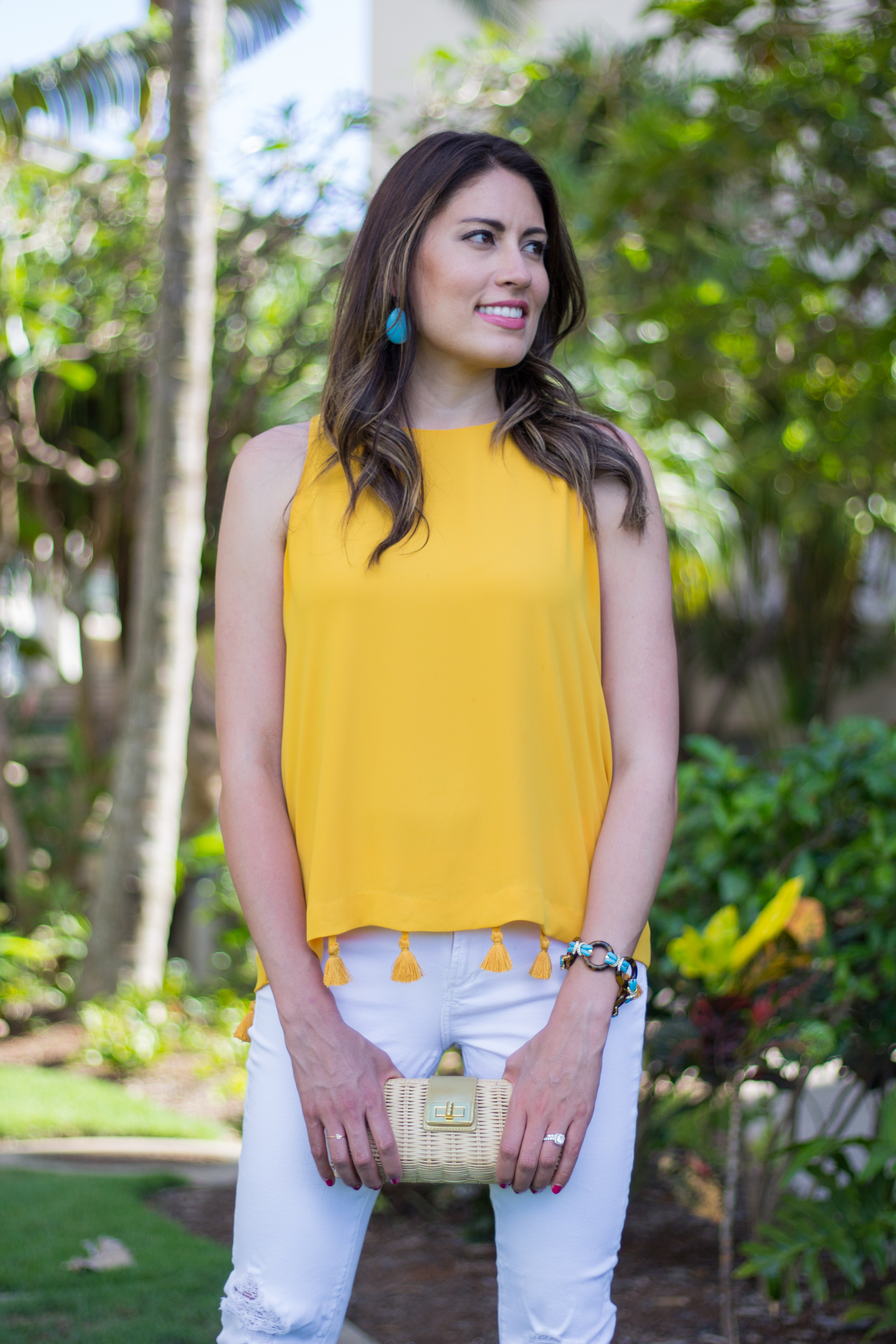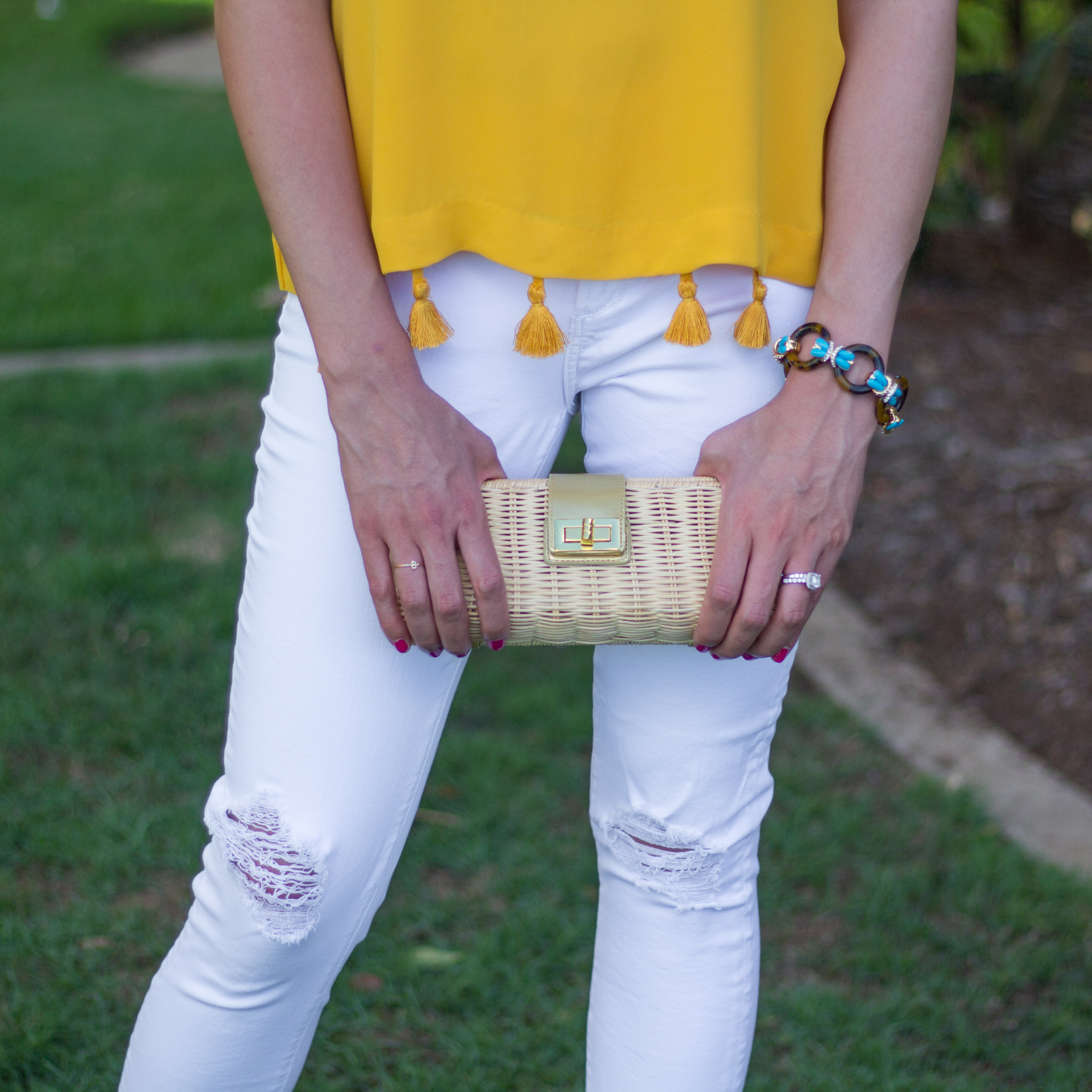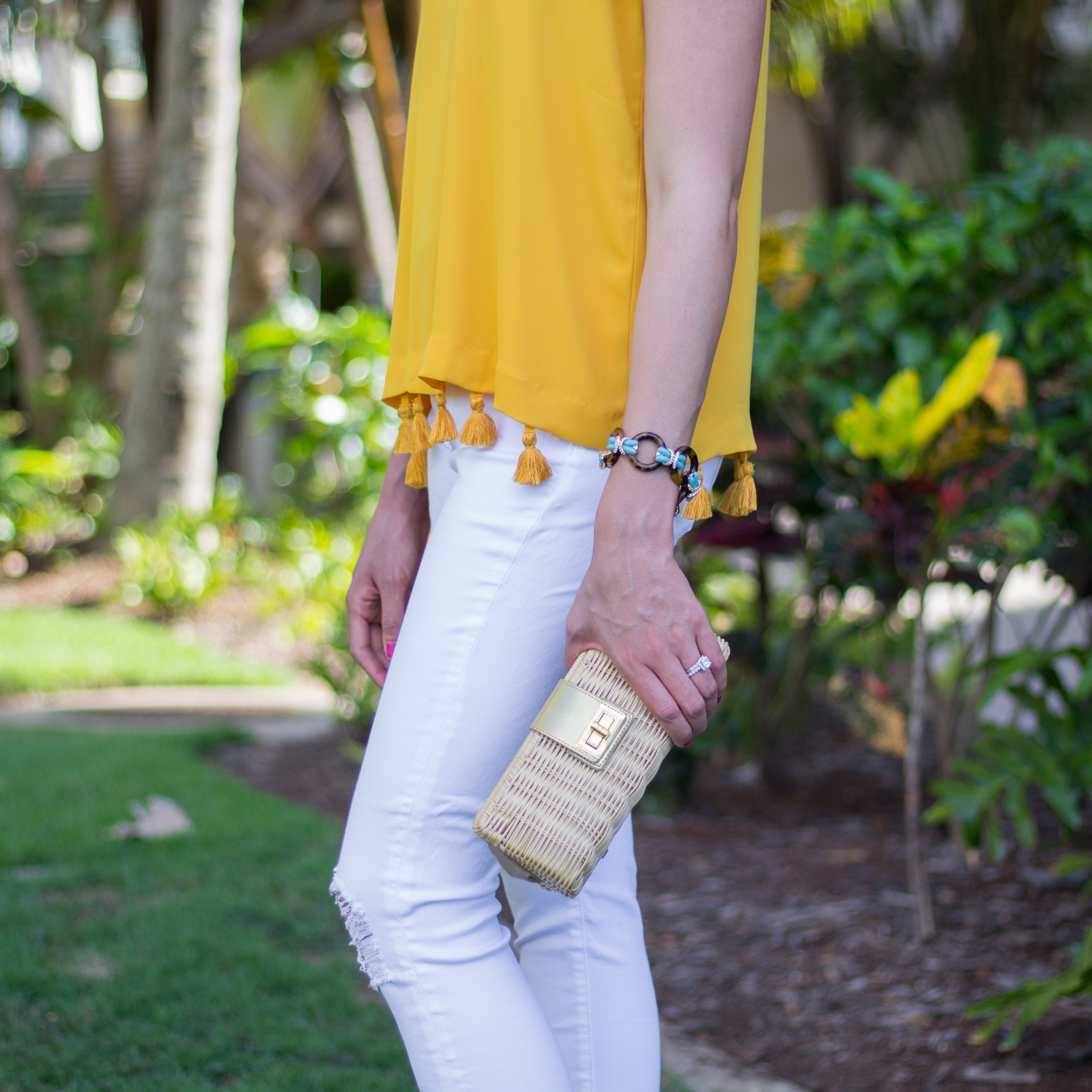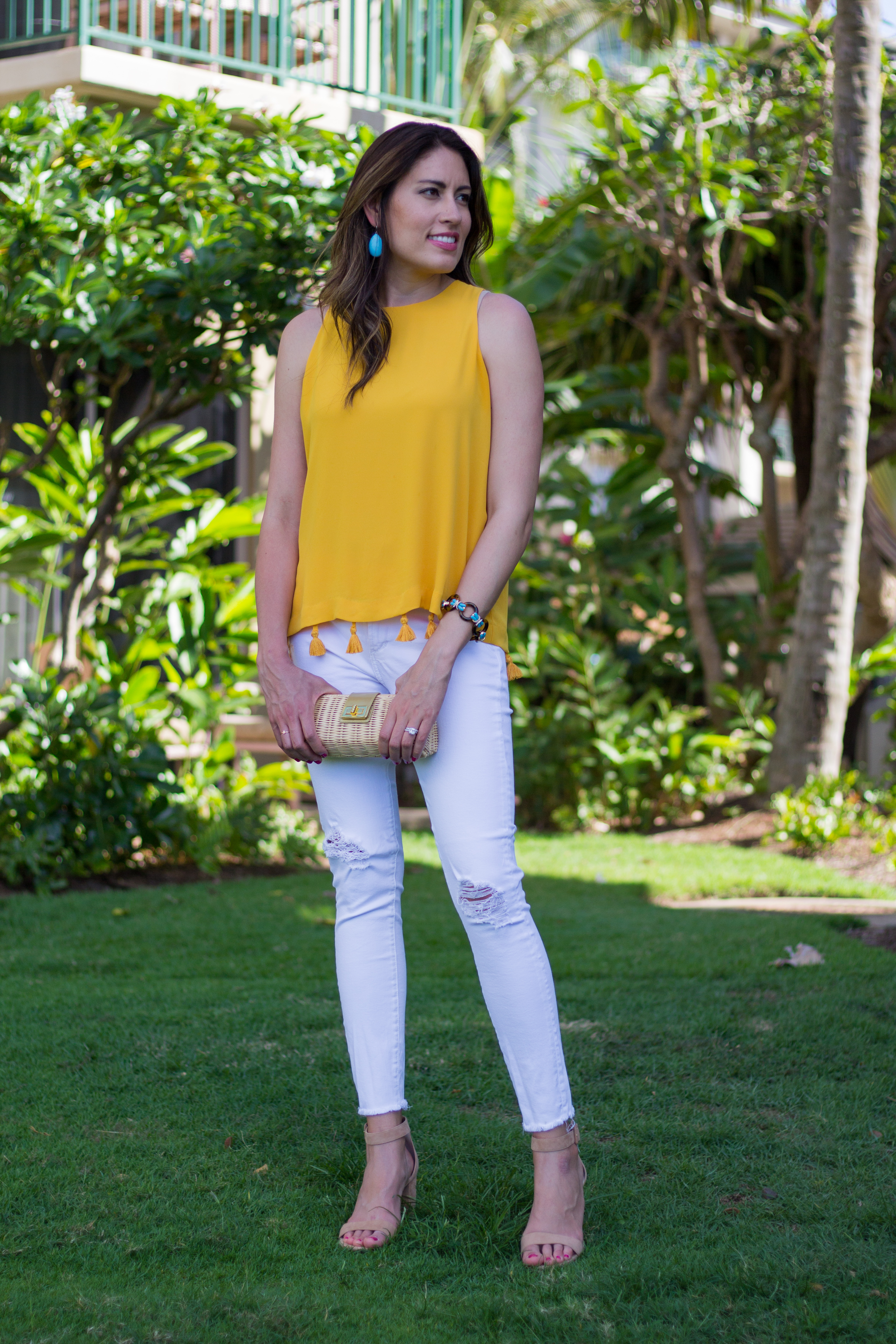 I'm really embracing yellow lately. It makes me feel instantly cheery, and if an outfit can help boost your mood, why not? I'm wearing my go-to white summer denim that I previously wore in this post with this fun tassel top that I picked up for Cinco de Mayo.
I wore this outfit when we went to dinner in Maui recently. Tassels have been everywhere this season. From tops to accessories like clutches or straw beach totes, I've seen them a lot but haven't taken part in this trend until now.
I've found a couple of other yellow tops that I love like this one shoulder top and this adorable yellow eyelet tassel top  that are similar since this exact top is sold out. The top I'm wearing is still available in black and white, though. For reference, I'm a small. (I'm typically a small most tops from AT.)
Outfit details: Top (sold out, see similar links to yellow tops linked above) | White denim | Shoes | Clutch | Earrings (old) | Bracelet (old)
A little life catch-up…
I'm SO looking forward to having a three day weekend. We're making a quick trip to go to my nephew's birthday in San Antonio. I really need to do some unpacking and organizing this weekend. We moved into the house about a month ago, but I haven't been home on the weekends since we've lived in the new house so I haven't spent as much time getting organized like I've desperately needed to. And, it's just not going to happen in the evenings after a full work day so I really need my weekends for this. We were in Maui for a week and got back on a Monday morning, May 15, after taking a red eye flight, and I had a client meeting at 4 pm that same day. (Horrible idea, but too many scheduling conflicts so it was my only option.) Then, Ben left the very next day at 5am to go to Midland for a week. So, I was on single parent duty for one week with a toddler whose clock was all messed up because of the Hawaii time difference, and I had to jump back into a crazy work schedule. No bueno, y'all. We are loving our new neighborhood and have some great neighbors with kids the same age as Braden and they have all become fast friends. It will be so nice to see these kids grow up together. But, to add to my week of transition, one older woman, a neighbor, who had really become quite chatty with Ben during our home construction and was very nice to us during the building process basically texted Ben out of the blue the day after we got back from vacation. This was the nastiest, most judgemental  text message. It was apalling actually. It's sort of a long story, but she basically said we were sacrificing Braden's happiness by being overly ambitious ( I can only assume she has problems with women who work outside the home) and that I was basically a bad mom. Talk about judgemental! If you want to tick a mom off really fast, then call her parenting skills into question. Needless to say, I will not be interacting with her anymore and she is pretty much on my sh*t list.
So, Ben is back home and all feels right again. I am very fortunate that I have a true partner of a husband, and he is such a hands-on dad. When he goes away, we manage but things are definitely easier when he's here. My world is just better with both my B&b.
I'll be recapping our Maui trip soon, so stayed tuned for more on that front!
I've rounded up a few of the Memorial weekend sales that I'm eyeing. I have a whole list of things on my home wish list so I will definitely be doing some online shopping over the weekend.
Memorial Weekend Sales
J.Crew: 30% off full price items with code SWEET
Anthropologie: 40% off sale styles online
Ann Taylor: 40% off full price items with code SUMMER and an extra 50% off sale styles
Banana Republic:40% off your purchase with code BRSUMMER
Gap: 50% off everything with up to an extra 20% off everything with the code MORE – perfect for stocking up on PJs, swim trunks and rashguards!
Nordstrom: Half yearly sale is going on with 40% off lots of great pieces for summer
Pottery Barn/PBK: Buy More, Save More  – up to 25% off with code SAVEMORE online and in stores
Serena and Lily: 20% off with the code AMAZING
Ballard: 20% off up to $499; 25% off $500+
Have a great weekend, everyone! Happy shopping! 😉