I'm a fan of Italian food, but it's a little heavy to eat more than once or twice a week in my opinion. I tend to cook a little lighter. Sorry, Giada. I do get in the mood for the cheesy goodness that many pasta dishes offer and this recipe for Stuffed Shells never disappoints.  My 21-month-old loves it, and so does my 416-month-old, making this recipe a family-friendly winner. 🙂
I really have been just trying to survive lately, prepping more food on the weekends to avoid making choices I know I'll regret on weeknights. Or,   I often make super simple non-recipe meals on weeknights  –  i.e. salmon, sweet potato + salad – since I get home after work and I want to spend as much time with the kiddo versus getting stuck in the kitchen. That's why recipes like this that can carry over for more than one weeknight meal are perfect for me. I usually pair it with a salad or another veggie I already have in my fridge. And, this since they are individual shells, it's built-in portion control.
I think pasta often gets a bad wrap for the carbs, but when you eat it in moderation and you serve with something green, it can be a healthy meal. My motto is to live a little or you'll end up binge eating later. I eat pretty healthy 80% of the time, but sometimes I just need something a little more hearty like this!
Turkey and Artichoke Stuffed Shells
Serves 6 to 8 (This is a perfect meal to give to friends, a new mom or for a potluck. You can freeze it, too!)
1 (12 ounce) box jumbo pasta shells
3 tablespoons extra-virgin olive oil
1/2 large yellow onion, chopped (about 1 cup)
1 pound ground turkey ( I used 93 % lean)
1 ( 8- to 10-ounce) package frozen artichokes (I used a whole 12-ounce package I found at Kroger)
1 (15-ounce) whole milk ricotta cheese ( I used part-skim ricotta)
3/4 cup Parmesan cheese
2 eggs, lightly beaten
1/4 cup chopped fresh basil
2 tablespoons chopped flat-leaf parsley (I used 1 tbsp dried)
2 jars marinara sauce ( I used approx. 1.5 jars of organic marinara I had in my pantry. I opted for this since I wanted to make it toddler-friendly. The original recipe calls for Arriabiata and although it's delish, it can be a little spicy.)
1 1/2 cups grated mozzarella cheese (about 5 ounces; I just eyeball this and probably use less)
DIRECTIONS
Preheat oven to 350 degrees F.
Bring a large pot of salted water to a boil over high heat. Add the pasta and partially cook until tender but still very firm to the bite, stirring occasionally, 4 to 5 minutes. Drain.
Meanwhile, in a large, heavy skillet, heat the olive oil over medium-high heat. Add the onion and the garlic and cook until the onion is soft and starts to brown, about 3 minutes. Add the ground turkey, 1/2 tsp salt, and 1/4 tsp pepper and continue to cook, stirring occasionally until the meat is lightly golden and cooked through. Add the artichoke hearts and stir to combine. Remove from the heat and let cool.
In a large bowl, combine the cooled turkey mixture with the ricotta cheese, Parmesan cheese, eggs, basil, parsley, 1/2 tsp salt, and 1/2 tsp pepper. Stir to combine.
Cover the bottom of the a 9 x 13 x 2-inch baking dish (I used 3 different baking dishes so I could give one to a friend) with 1 cup of marinara sauce. Hold a shell in the palm of your hand and stuff with a large spoonful of turkey mixture, about 2 tablespoons. Place the stuffed shell in the baking dish. Continue filling the shells until the baking dish is full; you should have about 36 shells. Drizzle the remaining marinara sauce over the shells and top with the grated mozzarella. Bake until the shells are warmed through and the cheese is beginning to brown, about 25 minutes.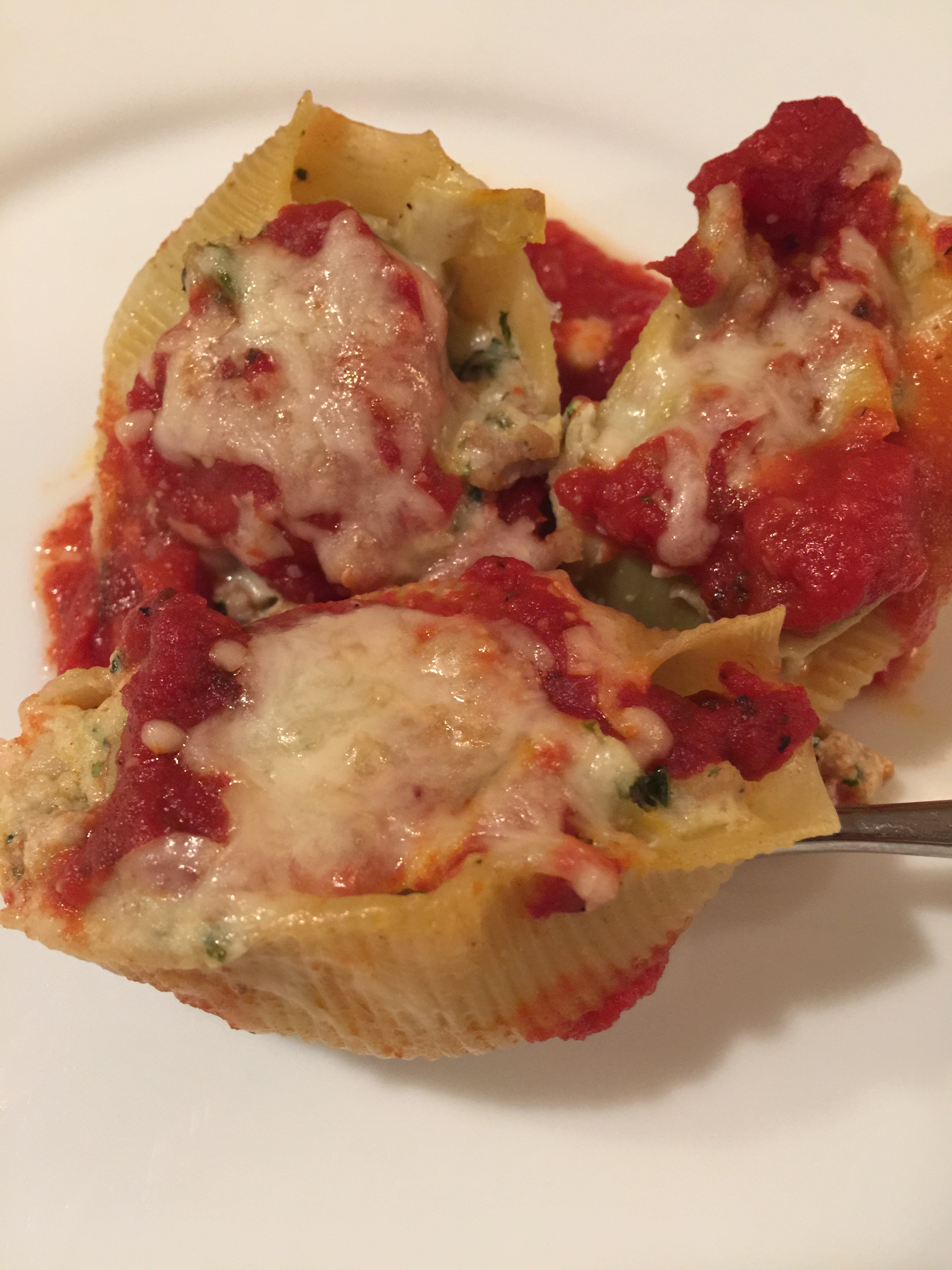 TIPS: I have adapted this recipe to make it easier on me, using some store bought items like jarred marinara, which I always have handy. I've made notes in the ingredient list. Do NOT use canned artichokes. I personally don't like the taste of them, and I once used and it did not taste right. Lots of places sell frozen artichokes such as Whole Foods, Trader Joes and Kroger. I think I have used hot Italian turkey sausage before. You can  swap out the protein for others like sirloin, ground chicken, etc. and I'm sure it'll turn out just as well.
IF FREEZING: Cover tightly with plastic wrap and place in the freezer for 1 day and up to 1 month. To bake, preheat the oven to 400 degrees F. Bake until the shells are warmed through and the cheese is beginning to brown, about 60 minutes (20 minutes if shells are unfrozen.)
Original recipe by Giada De Laurentis can be found here.
Enjoy!