We always try to eat and cook using seasonal ingredients. We eat a TON of blueberries in our house. My husband loves putting them in his cereal, and I usually eat daily for breakfast with my yogurt or snack on them plain. And, blueberries are the ultimate go-to toddler snack since they are perfectly bite-size.
I came across this Giada recipe two years ago and I'm so glad I did! It's full of blueberries and makes a great breakfast or sweet treat.
It's also an easy way to get some fruits into your kiddo's diet, too. Braden loves it!
Similar to my banana bread muffin recipe I previously shared, I like to use my secret ingredient.
It seems like all I do is share carbs, but I actually cook pretty healthy most nights, but I have to give in to those cravings. I definitely believe in the all about moderation and with two bananas and one cup of blueberries in this recipe, I don't' feel too bad about eating this.
Enjoy!
LL
Ingredients:
Butter, for greasing the loaf pan
1 ½ cups all purpose flour, plus a little extra for dusting the loaf pan
1 tsp baking soda
1 tsp fine salt
½ tsp baking powder
½ tsp ground cinnamon
½ tsp ground nutmeg
1 cup sugar
½ cup vegetable oil
2 large eggs
2 tsps vanilla extract (but I change it up and use this instead)
2 ripe bananas, mashed
1 cup fresh blueberries
Directions:

Place an oven rack in the center of the oven. Preheat the oven to 350 degrees F. Butter and flour a 9- by 5- by 3-inch loaf pan. Set aside.
In a medium bowl, whisk together the flour, baking soda, salt, baking powder, cinnamon and nutmeg. In a large bowl, beat the sugar, oil, eggs and vanilla until blended. Stir in the bananas and blueberries. Add the dry ingredients and stir just until blended.
Pour the batter into the prepared loaf pan. Bake until a cake tester inserted in the center of the loaf comes out clean, about 1 hour. Cool for 15 minutes. Remove the loaf from the pan and cool completely on a wire rack, about 2 hours.
Prep time: 15 minutes. Cook time 1 hour. It took about 55 minutes in my oven, so I would recommend watching it and checking with a toothpick starting at 50 minutes.
Makes 1 loaf or  6-8 servings. I think this is more than 8 servings in my house.
Recipe courtesy of Giada De Laurentiis and can be found
here
.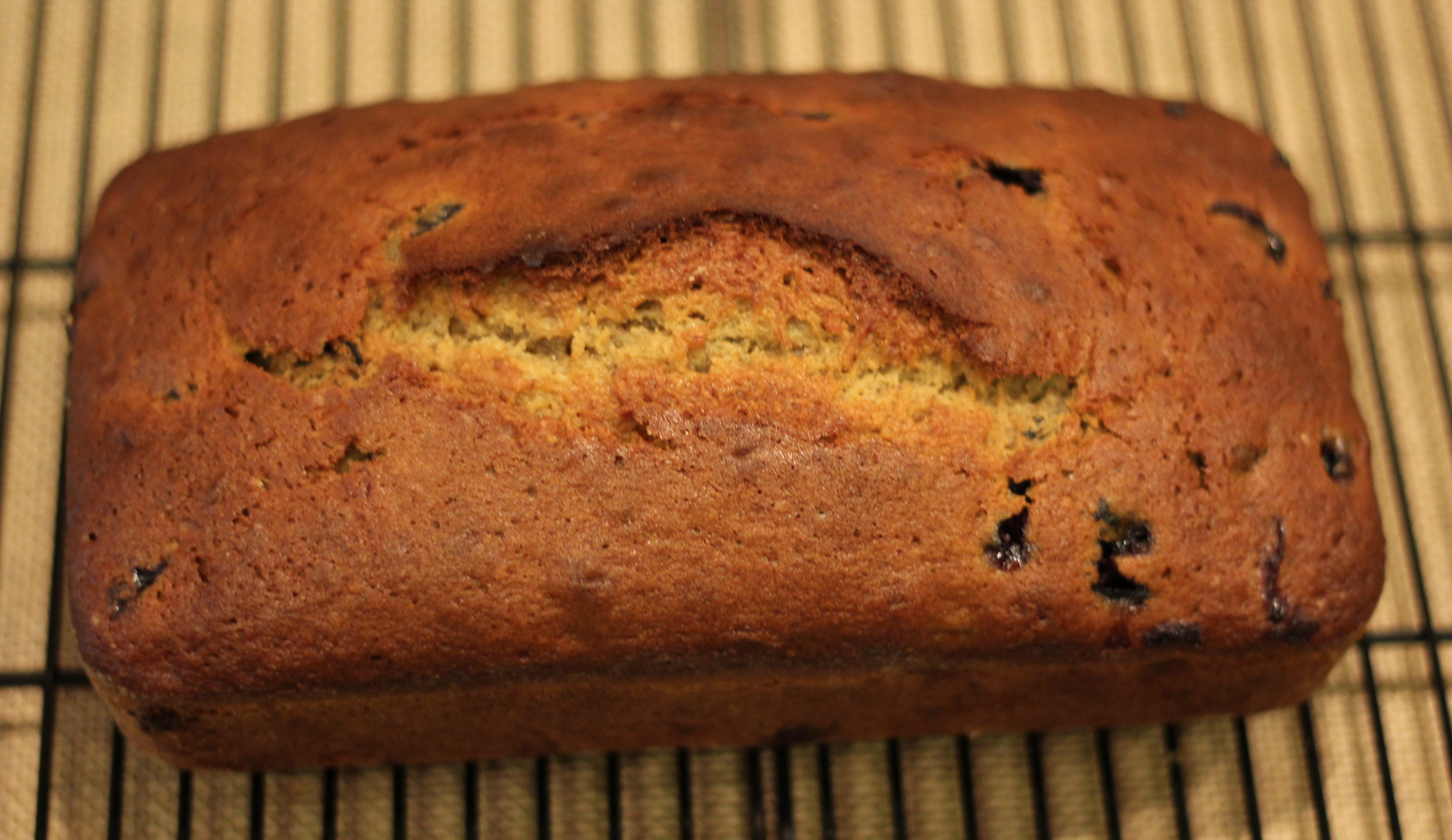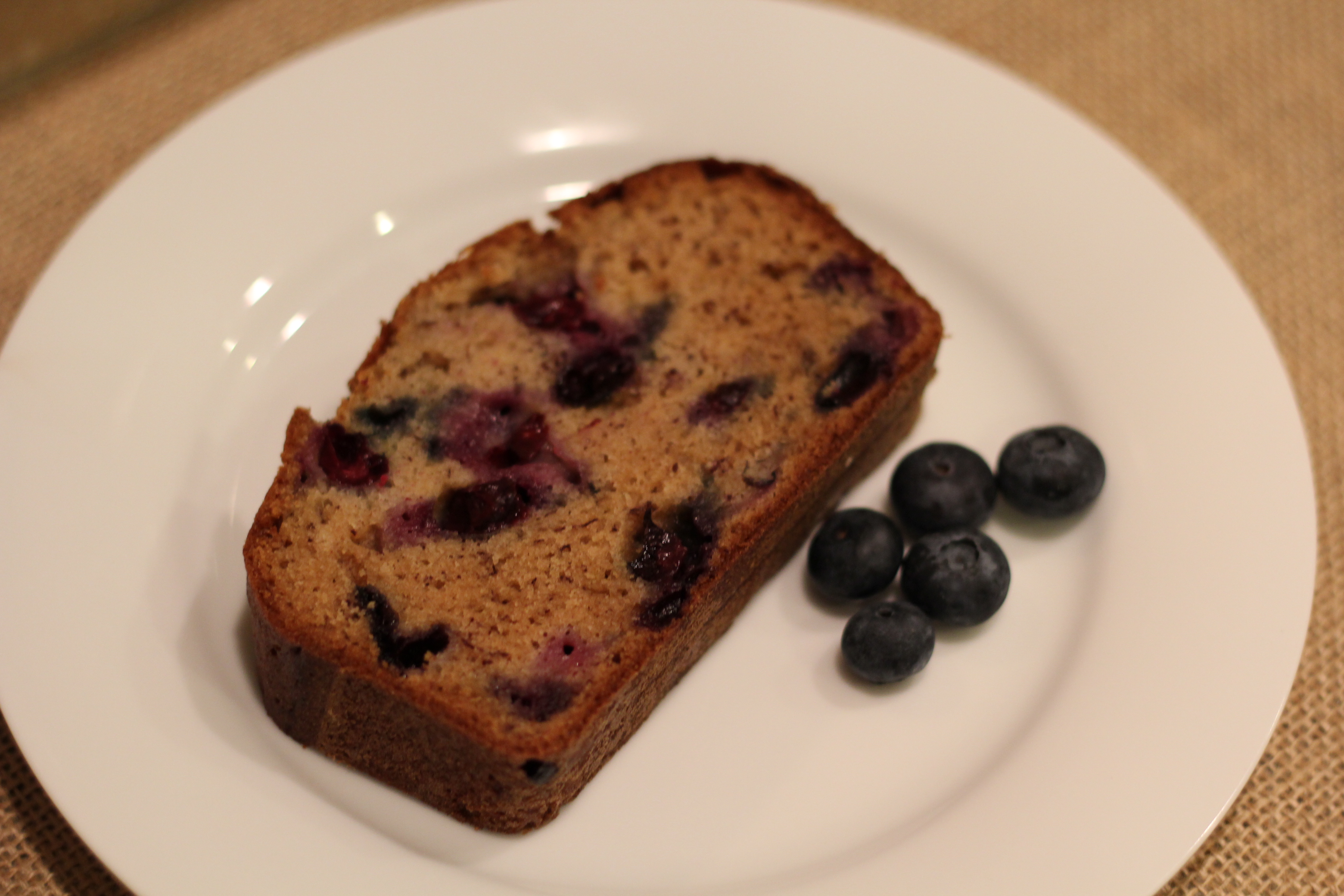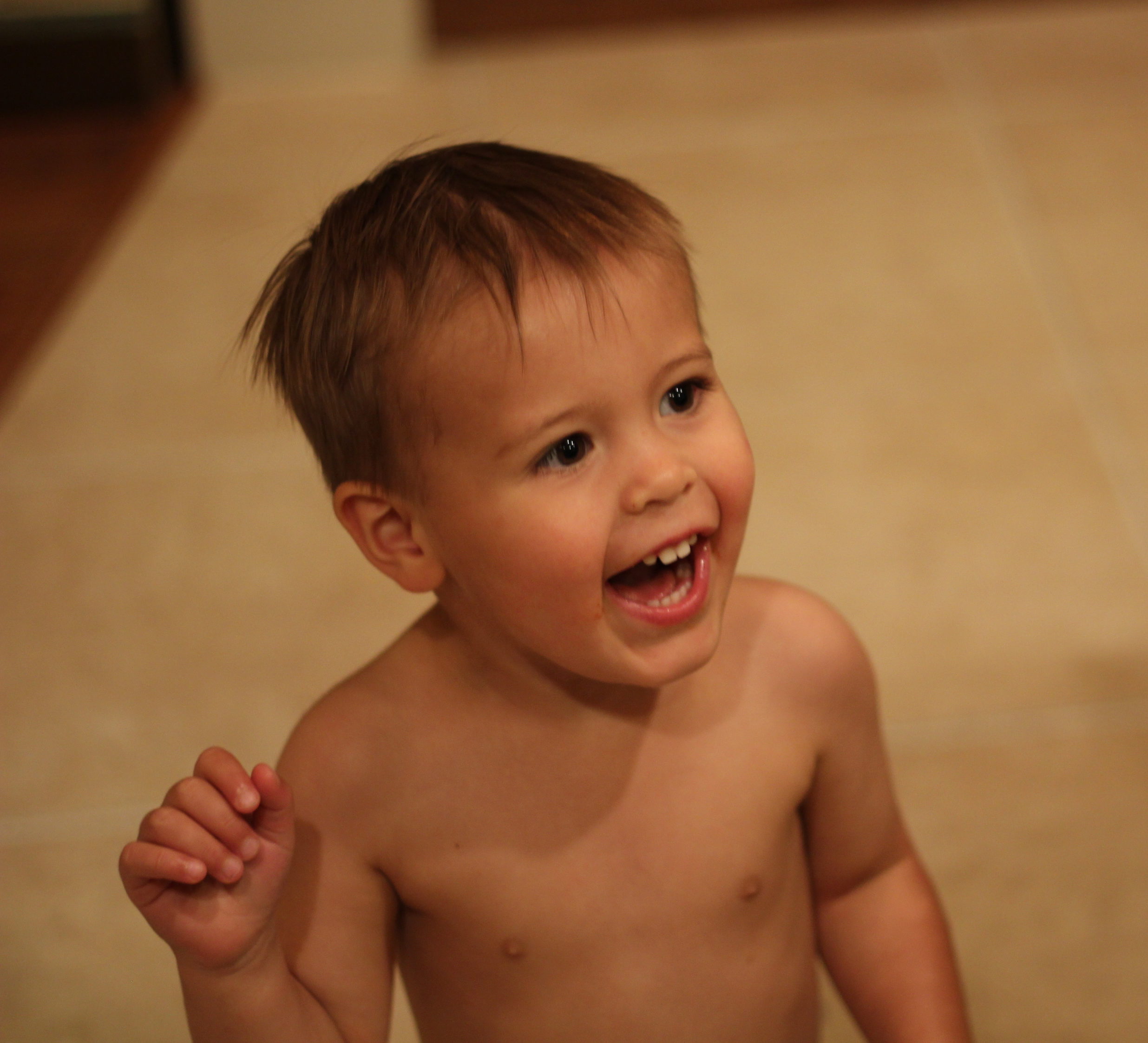 Blueberry Banana bread – Braden approved! My little kitchen helper is like my shadow in the kitchen these days.