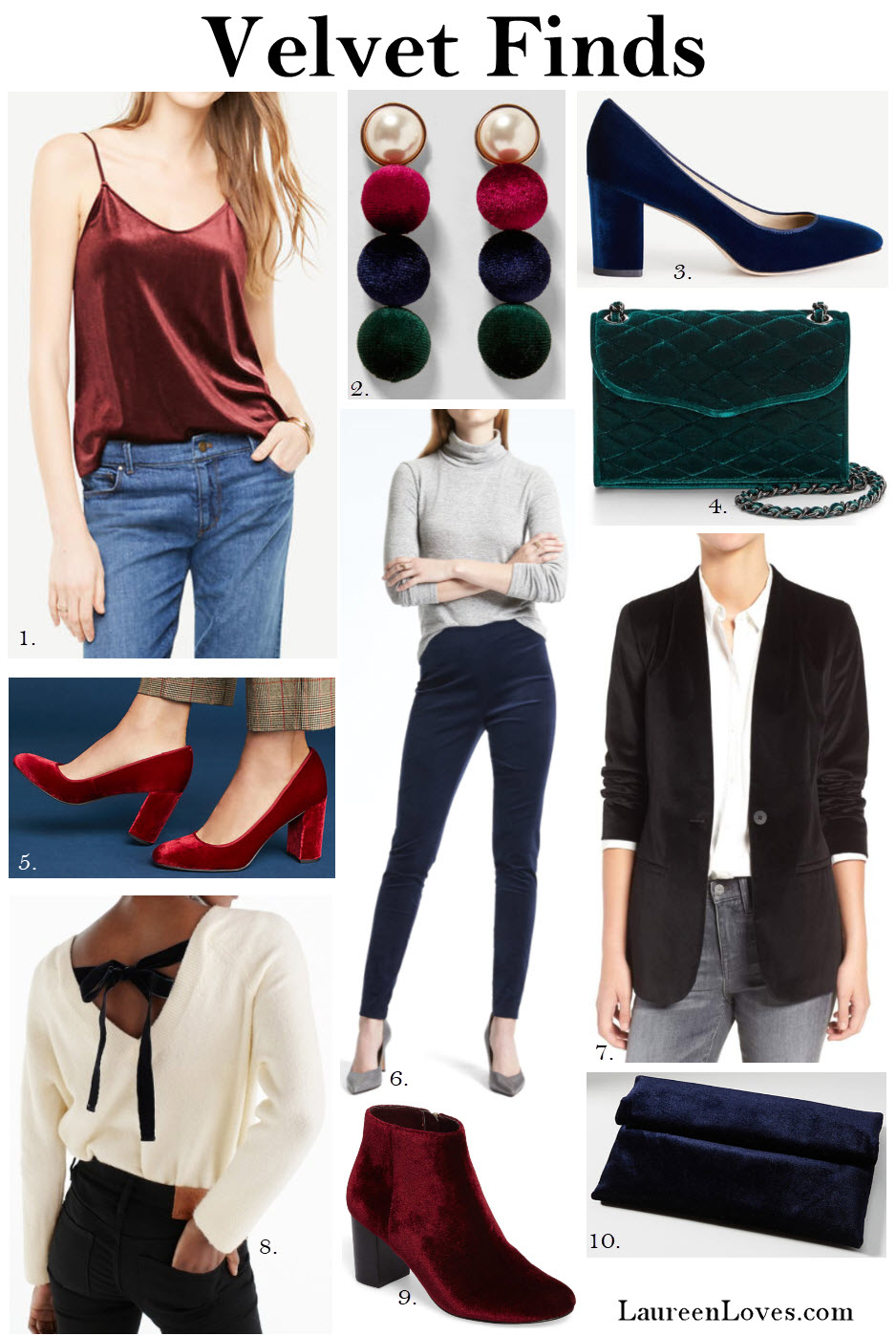 I had a burgundy velvet blazer from college (I'm talking 2004, people) that I recently gave away to Goodwill. Maybe I should have kept it! The cut was a little dated so I don't feel bad about it. I was originally on the fence about velvet. But, I've found a few pieces that look luxe that have made me have a change of heart. I've rounded up a few pieces I have my eye on.
I think the key to wearing velvet is to let it be your standout piece. Don't go overboard and wear multiple velvet pieces. I recently picked up a pair of wine-colored booties, and a pair of floral velvet booties which were at steal at 40 % off. I don't think they're available anymore, but here is another great pair for under $60!
I tend to gravitate toward velvet accessories. This is an easy way to jump on this trend without spending a ton. How cute are these earrings?! I probably wouldn't wear a velvet dress but I love the idea of a velvet blazer. Most of the time blazers don't go out style and this black one is timeless, so worth the price in my opinion.
Be careful when hopping on trends like velvet. The No. 1 thing I would recommend is to not buy something and then just never wear it. This could very well be the case if you buy something velvet. Be realistic about your lifestyle. If I bought a velvet dress, I would probably wear it once this winter and be done with it. I just don't have anything planned right now where a velvet dress would make sense for me. Perhaps explore Rent the Runway to hop on this trend or just stick to something really budget-friendly like the earrings.
There are some great sales going on this weekend where you can find some great velvet finds like some of these that I've included here!
1 | 2| 3 | 4 | 5 | 6 | 7|8 | 9 | 10
Anthropologie: 25 % for ANTHRO perks members on 10/20
GAP: 40% with the code MORE (good through 10/20 at 11:59 ET)
LOFT: 40 % off everything with code FRIENDS ( good through 10/22 at 3am EST)
Ann Taylor: 50% off everything with code ALLTHEWAY (good through 10/23 at 3 am EST)
Banana Republic: 40% purchases $200+ with code BRTREAT (good through 10/23 at 11:59pm ET)
Happy shopping!