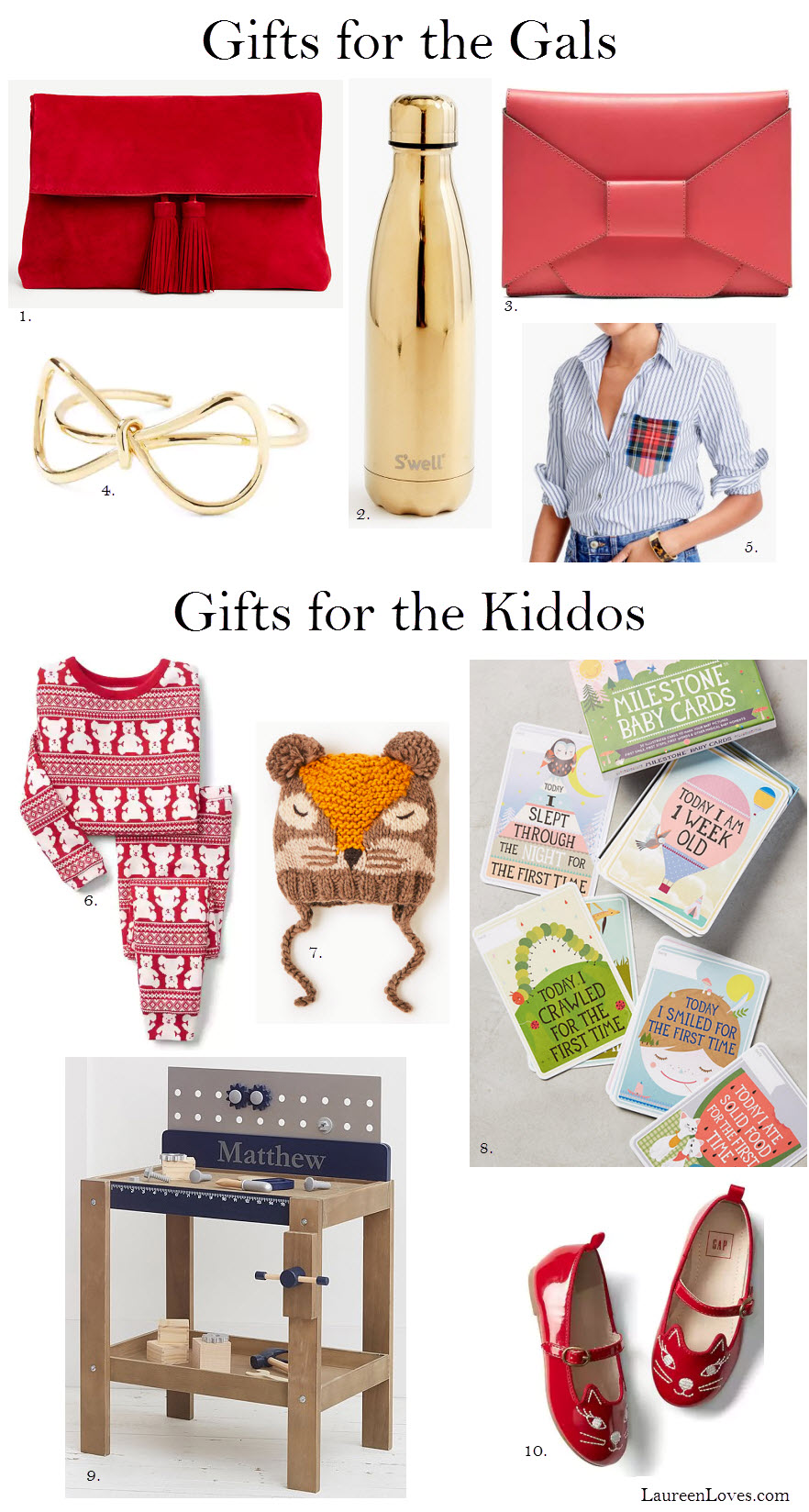 With all the carbs we've consumed the past 48 hours thanks to the Thanksgiving holiday, there is not much energy left except to sit on the couch with my phone and laptop browsing the Black Friday sales. Online shopping is just the way to go. It's so much more efficient, and there are tons of great sales for Black Friday weekend that just kicked off.
I've rounded out some of my favorite picks for her and the minis. I've also listed some great deals going on at some of my go-to stores. It's the perfect opportunity to buy family and friends Christmas gifts without the hassle of going to the stores that are often picked over. And, while you're at it, don't forget to treat yourself. 🙂 Happy shopping!
1 | 2 | 3 | 4 | 5 | 6 | 7 | 8 | 9 | 10

Gap – 50% off everything through Nov. 26 at 11:59pm ET. Use code TGIF50 at checkout. Always a great place to stock up on everyday kids' clothes. B has a whole pajama wardrobe from Gap Kids, and I love all their Christmas PJs.
Zara – 30% everything through Nov. 26 at 3am ET. I buy so many of Braden's clothes here. I think they have the best boy clothes. I love how they have a good variety of cotton or twill pants that are perfect for pulling on really quickly —  a requirement for potty training, which we started recently.
Ann Taylor -50% off everything through Nov. 27 at 5pm ET. Use code CELEBRATE at checkout. I have shared my love for AT shoes here and here, but I get a lot of work clothes here, too.
Banana Republic – 50% off 5 regular-priced items with no exclusions until Nov. 26 at 11:59pm ET. Use BRFIVE at checkout.
Anthropologie – 30% off everything with code LETSGO. Perfect place to get tons of gifts for friends and family. I love all of their kitchen accessories.
Shopbop – 15% – 25% off depending on how much you spend through Nov. 28 at 11:59 PT. Use code GOBIG16
Pottery Barn Kids – 20% off and free shipping using the code OHWHATFUN through Nov. 28. For Braden's second Christmas (he was 16 months) we got him a personalized workbench from PBK and it was the BEST toy we've ever purchased. He still plays with it all the time (he's now 27 months) and it keeps him occupied while we're cooking dinner, cleaning downtairs, etc. The one we have looks a little different, but the one I've showcased is pretty similar, and I love that you can get the name or monogram on it.
J.Crew – 40% off through Nov. 27 at 11:59pm ET. Use code HOLIDAY at checkout.
Save
Save
Save
Save
Save
Save