Does anyone have a soft tape measure?
Me: Yes! I do. Here you go.

This is a real conversation I've had with a coworker. I've been known to have everything under the sun in my handbag. Just call me Mary Poppins. Before I was a mom, I assumed the mom role among by friends and co-workers, always ready with meds, snacks, a hair tie or whatever else was needed by someone.
I decided I would show a real snapshot of what I carry in my bag day-to-day.
First off, let's talk about the bag. Unless I'm going to a wedding or a night out where I can carry a clutch for just a few hours, I just need a big bag. I've always been this way, but when I became a mom, this rang true tenfold.
I've been carrying this Tory Burch tote for nearly two years. It's a plum color that doesn't seem to be available anymore, but there are some other classic colors available.  I swap it out with other similar-sized bags occasionally, but it's a simple everyday bag that can double as a work and diaper bag when needed. I have my eye out for a new spring bag…or ten. P.S. It's my birth month dear, sweet husband.
Speaking of diaper bags, I have a basic navy messenger baby bag that I use mostly for weekend outings to the zoo, travel or other trips out and about, but mostly I just throw a few diapers, changing mat and travel wipes in my everyday purse and I'm all set. I'm thinking I'll buy ToteSavvy, an insert that will keep things a bit more organized, especially when you're in the bottle-toting stage. Not in the bottle-stage anymore, but still toting a sippy cup most days since I have a 18-month-old.
A few essentials I keep in my bag day-to-day:
iPhone i.e. lifeline
Planner – I like having a hard copy planner for personal appts., pediatrician appts., etc. I also write down the days I work out, so I can see that I'm either doing ok, or if I need to step up my game. The one I have is cute, too with a folder compartment and a notes section. Sugar Paper for Target makes the one I have.
Sunglasses – classic black Ray Ban aviators are my go-to. I don't have a ton of sunglasses because I really gravitate to Ray Bans, and these are actually a prescription pair that I got from the eye doctor.
Wallet – I like a classic Kate Spade wallet that has tons of compartments within to keep all my cards organized.
iPod and headphones –  I always have them with me in case I hit up the gym or if I need the headphones at work.
Hair tie and elastic head band – I can't work out unless I wear one of these elastic headbands. I can't deal with hair in my face if I'm sweating up a storm.
Mints – if anyone asks if I have gum, my response is always that I have  mints. Full disclosure: I'm pretty uncoordinated, and I almost always bite my lip when I chew gum. True story. Sad, I know.
iPhone power cord – In case you need extra juice for your phone.
Make up bag – I carry a small bag with a lot of the everyday items. I'm always rushing out the door most mornings, especially on weekdays. I put part of my makeup on at home and the rest in the car or at work. Or, not at all depending on what I have going on. I'm tired, y'all.
Other misc. contents

Kleenex – you never know when you might have an allergy attack or there won't be TP in the ladies room. I'm always prepared.
Hand sanitizer – I'm a big fan of Honest products. Their hand sanitizer doesn't have a strong alcohol smell and doesn't dry out your hands like most.
Misc. beauty supplies – I keep a travel hair brush, a few lip glosses, lip moisturizers and hand lotion in my bag at all times. Smith's Rosebud salve is one I've used for years. I also keep shine erasers on hand for touching up the shine that lingers on m T-zone thanks to my combination skin.
Misc. meds, including Honest Immunity Plus or Emergen-C. We were going through a period of sickness thanks to having a toddler so I try to get ahead of any potential sickness. Other meds not pictured:  ibuprofen, Pepto, allergy meds, decongestant, + band-aids, plus various vitamins. I'm always prepared.
Sewing kit – You never know when a button could pop off or you need an emergency safety pin. I'll take one from a hotel every few months so I have an extra.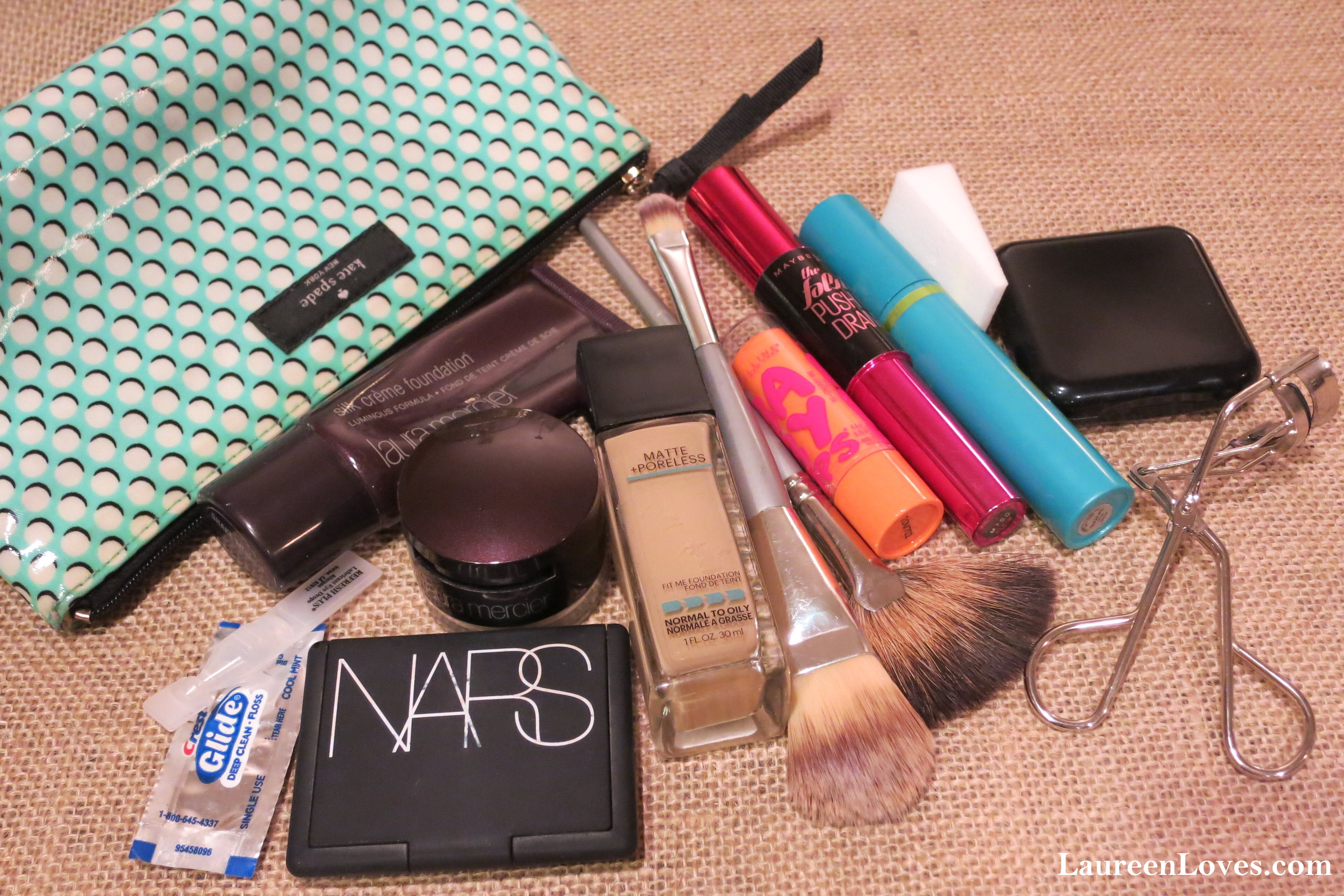 Some basic make-up must-haves include:
Foundation – Laura Mercier silk creme foundation is one I use on days when I need a bit more coverage. This tube lasts a long time. I believe they've revamped the product because it doesn't look like this anymore. I'll have to check out their newest version, which has the label of 'Photo Edition.' Maybelline FitMe is a great everyday foundation that feels light. I use a foundation brush and just blend a little with a sponge as needed around my jawline and hairline. I think foundation brushes are the way to go for even coverage.
Shu Uemera Eyelash curler – hands down, best eyelash curler out there. I have short, straight eyelashes thanks to my Asian genes. I use an eyelash curler daily and this one doesn't pull like others.
Mascara – I often mix two different types. I apply one for volume first, then one for length. There are some great drugstore versions out there like the ones pictured, but one splurge beauty item I love is Benefit They're Real mascara. It is the best mascara out there that defines, adds volume and length, in my opinion. I've recently run out of this, but I just ordered more online.
Blush – Nars orgasm is a universal shade I love for a little rosy color on the apple of your cheeks.
Concealer – Laura Mercier Secret Camouflage works well. Sleep works better! Their undercover pot has the two shades of secret concealer in it and then it also includes a translucent setting powder. This little pot is travel-friendly and lasts forever, too. I use for undereye coverage and then for spot treatment as well.
Benefit Brow Zings – my eyebrows naturally want to jet straight down vs. follow the arch of my eyebrow. Again, it's those Asian genes. I need this to keep them in place, plus it fills them in a little, too, making them more defined.
Floss – you never know when rogue spinach will be in your teeth
Lipgloss – Maybelline Baby Lips is inexpensive, super hydrating and gives a nice color. I have a ton of lipgloss in my purse that I turn to as well but I have several of these shades because it's only $3 a pop and you can get it at the grocery store.
Eyedrops – unfortunately, my eyes are really sensitive and get bloodshot easily if I'm tired. So, I need to have some eyedrops on hand at all times.
I usually put foundation and a little bronzer on at home then do mascara, blush and lipgloss once I'm in the car or at work. If I have even more time, I'll actually put eye makeup on including eyeshadow base, eyeshadow and eyeliner. This happens once a week these days. Just keeping it real.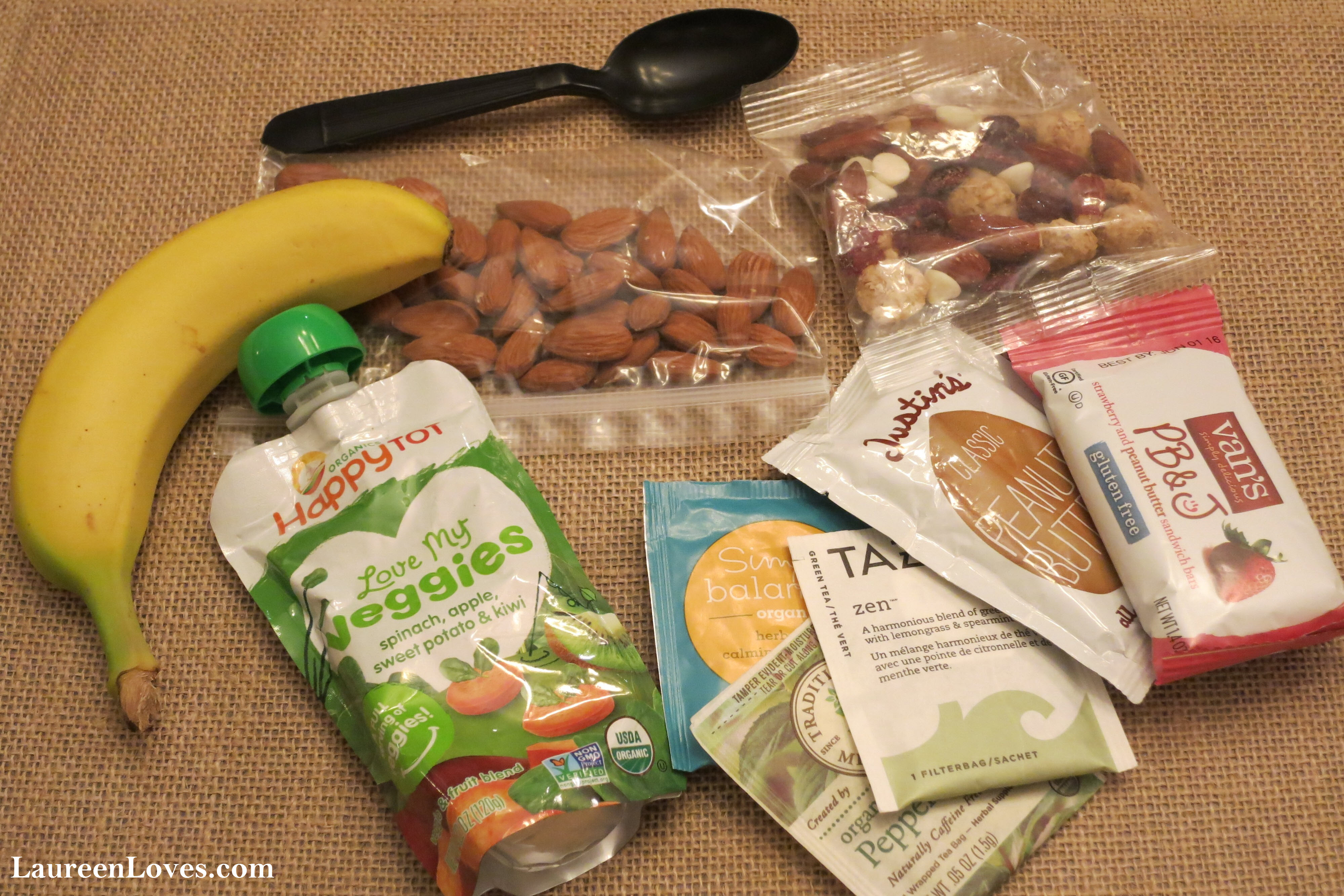 I"m a big snacker. I eat a lot, just spread throughout the day.  It's what I've trained my body to expect. It can make me difficult to travel with, so I try not to be so annoying by being self-sufficient and keeping snacks in my purse. I average 3-4 meals ( I eat two mini breakfasts most days.)  and 2-3 snacks a day. I try not to eat too much packaged food, but I'm also realistic so I keep things in my purse that'll hold me over. Most days I have a banana and apple I take to work. I eat in my car every day, usually a banana or smoothie. I'm a major multitasker, y'all.
I also carry various types of tea with me and often turn to green tea with honey early afternoon for a mid-day pick-me-up. Tazo Zen green tea is my favorite, and I  mix with about a tbsp of honey I keep at my desk.  I LOVE peanut butter and am a big fan of the portable PB pouches that Justin's makes.  Also, I recently discovered these PB&J snack bars. I bought them for the mini-me, but I'm kind of obsessed with them after B and I shared one a couple of weeks ago. They sell them at my area Kroger and can be found in the aisle where they have most of the healthier granola bars and organic cereal. I usually have other kid-friendly snacks like this veggie squeezey pack in my purse, too. Real veggies are better, I know.  But some days he fights us, and I want him to get something in him vs. a granola bar, so these are a good back-up. Almonds are another go-to snack, and I often buy a big bag and measure out individual portions and keep in my pantry to grab as needed. I like the pre-packaged dried fruit and nut section at Trader Joe's. The breakfast medley is a nice salty and sweet combo. And, I always keep a spoon and/or a fork. You never know when you'll need it! Again, I eat on-the-go a lot.
Where's the tape measure I mentioned earlier? It recently broke, so I need to get a new one! Having a small retractable tape measure is great when looking around for furniture and other home items, which I'm all about these days since we're building a home.  It's also convenient to measure heel height when shoe shopping. #tallgirlproblems Get one! You'll be surprised how often you'll use it.
These are just a few of the things that help make my everyday a little easier. The takeaway: always be prepared. This mama is!
More soon,
LL