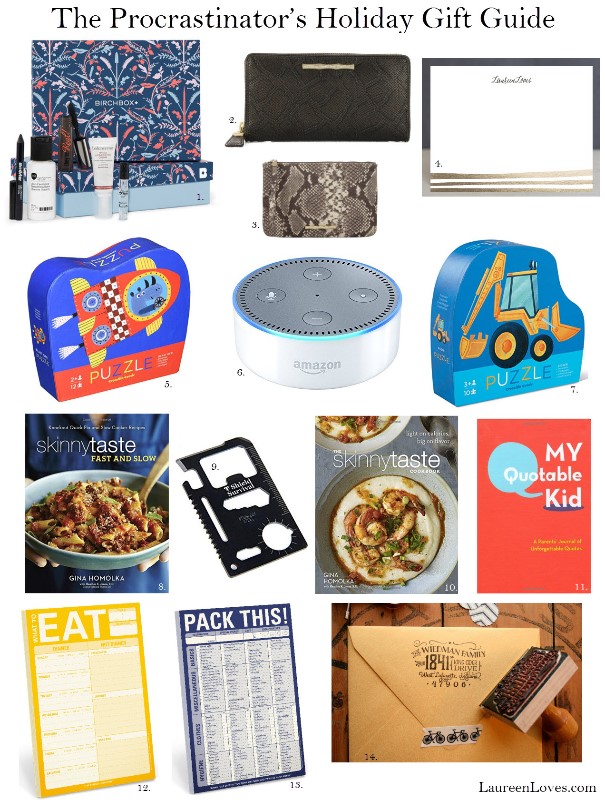 Now is the time to get your money's worth out of that Amazon Prime subscription! If you're like me, you may have procrastinated a little too long when it comes to holiday shopping. I have been known to give people photographs of what I've purchased them if it doesn't get there on time. It's the thought that counts, right?! The past few weeks have been especially stressful for me, so I have not dedicated much time to gift buying and will be doing some last minute shopping this week. But, I'm saving myself the headache of going to too many places and getting what I can online.
I've compiled a list that has some great items that are perfect for mom, dad, siblings, friends and the kiddos. And, many of these items I own, so I can honestly say they're not only practical but also good gifts. Plus, most of them can still make it here in time for Christmas. There are also some gifts that keep giving like a monthly Birchbox subscription or this book, which is one I'm using a ton lately now that I have a chatty toddler who just says the cutest things. 🙂
What are some other items that are great last minute gifts? I'm still on the hunt! Happy holiday shopping!
Birchbox subscription: Some sweet friends gifted me a Birchbox subscription for my birthday one year, and I loved it immediately. It was a fun treat to get a new box in the mail every month full of makeup and beauty samples. Often, they'll give you full-size samples, too. I've discovered some fabulous products I now use, too. It's a gift that keeps on giving, and there are several options such as 3-month, 6-month or 1 year options available for $10 per month.
Elaine Turner wallet: I attended a fun event to kick off the new Elaine Turner fall line and received this wallet as a gift. It holds EVERYTHING and keeps me organized.  It's pretty, too! Win, win.
ET Wristlet: I love this

snake print wristlet

. This would be  a wonderful stocking stuffer. If you're in Houston and can pop into an ET store, I'm sure you'll find  even more gift items for family and friends. I love all the jewelry they have in the store!
Custom stationary: I love customized

stationary

with my name or monogram. You can never have too much and Minted is my go-to for custom stationary and my holiday cards. I have used them for the past 5 years for all holiday cards and more.
Crocodile Creek Rocket puzzle: My almost 2.5 year-old has graduated from the chunky wood puzzles we have and is now into these cute puzzles by a brand called Crocodile Creek. Braden loves these mini puzzles! He is challenged by them, but doesn't get frustrated by the pieces and it's pretty impressive to watch him think through where each piece goes. He can stay occupied for a long time with these, so they're great to have on hand while you're making dinner. He has 3 of them, and I'm sure I'll be buying more.
Amazon Echo: The

echo

  is like a mini-Alexa without big speakers. Think of it as an extra helper. 🙂
Crocodile Creek Digger Puzzle
Skinny Taste: Fast and Slow Knockout Quick-fix and Slowcooker Recipes: I love this

cookbook

! There are a lot of healthy versions of comfort food recipes that require very little prep.
Shield Survival Multi-Tool: This would make a great stocking stuffer for any guy. It is basically 11 tools in one, including a beer opener. And, if you're Mary Poppins and have everything in your purse, then get one for yourself or the gal in your life who likes to always be prepared.
Skinnytaste Cookbook: Light on Calories, Big on Flavor: This

cookbook

was my first try at Skinnytaste recipes after following on Pinterest. I regularly make a lot of the recipes in this cookbook.
Save
Save
Save
Save
Save
Save
Save
Save